Sale Posters
How to print sale posters
Posters for sale are a great home and commercial solutions for those who need to attract attention to a put for sale object: a house, a car, a gadget. Sale posters work great for local business to attract passers-by to season or Christmas sales and other promotional events in your store. Needless to say, that sales posters should be bright, easy to read and well done. The quality of advertisement poster determines success of a promoted event.
Posters for sale can sufficiently impact your budget. RonyaSoft Poster Designer is a low cost solution for you to produce posters for sale without a designer and a printing office!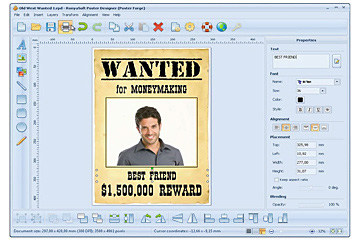 What is RonyaSoft Poster Designer?
RonyaSoft Poster Designer is a computer application of full production cycle of sale posters. The software offers a great collection of poster templates which are customizable and editable.
Get the application on your PC and start creating great looking, high quality sale posters in 5 minutes. Click the button to start download!
Follow installation wizard to get the software properly installed. You are done! No more settings are needed to start poster production.
Choose a necessary template. RonyaSoft poster designer offers poster templates for any occasion in your life for everyday or commercial use. Each category provides various templates. Choose a advertisement poster template you like and start editing.
RonyaSoft editor is full featured designer tool ensuring fast and simple customization of a chosen template. Change colors, background, add and remove blocks, upload pictures. Edit text blocks by changing fonts, styles, size and position of text. Use various effects to make your advertisement poster look professionally done.
Why to make posters for sale with RonyaSoft application?
High quality posters for sale are a challenging task. You need not only to add a picture and a text, but to make each block of the sale poster work effectively. Each part of the sale poster must be noticeable and readable. The greatest challenge of the task is to adjust the size of the blocks to fit an edited poster for sale in a proper format.
With RonyaSoft Poster Designer you will get a poster for sale of a standard format which you will easily set to print.
Need a multi-page poster for sale? Then get RonyaSoft Poster Printer to adjust the size of the poster to multi-page format in few simple steps.
Need more pros? RonyaSoft is the cheapest and the fastest way of production of posters for sale!
Who needs RonyaSoft Poster Designer?
RonyaSoft application is an all in one design and editing tool for:
Students - make great posters for sale which will sell your gadget, books, educational and studying staff in a twinkle. Eye catching posters for sale will attract maximum of target audience to your advertisements.
Businesses - promote your sale with the least efforts, time and money invested!
House keepers - need to sell old staff? Design and print posters for sale with RonyaSoft applications and get profit from the lumber you store.
Download free trial of RonyaSoft Poster Designer and produce your first posters for sale with ease!