Exit sign
Exit sign template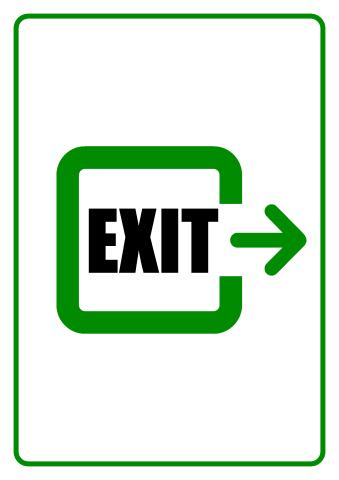 How to print an Exit sign
Exit sign is an essential safety condition at any office, school or other institution. Emergency exit sign informs people on how to fast and safely leave a building in case of emergency, while average exist signs guide a person through a building. Exit signage is a strict rule of any various codes (safety, health, fire, building). This type of sign is standard and must not be customized under any conditions. The codes of rules require proper lightning of the signs to be clearly seen and read in case of panic.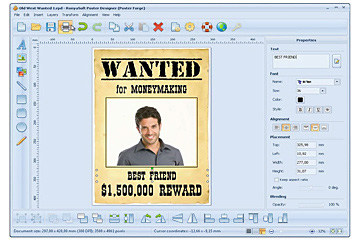 Where to get exit sign?
Commonly exit sign is a sticky note of a proper size you must place in your office to ensure high safety of public in emergency cases.
You can buy emergency exit sign in specialized store - this is one of the most time and money consuming ways. Due to average quality of paper, exit signage will wear out with time (colors can fade with time), and you will need to buy another one.
Finding exit signs on the web and printing the images - while searching for signs on the web you can not be sure that the exit signs comply with rules and standards. Moreover it is hard to find a proper editable exit sign with no watermarks.
Make exit sign on your own - RonyaSoft Poster Designer offers extensive collection of sign, posters, certificates, infographics collection to choose from.
How to make exit sign with RonyaSoft Poster Maker?
RonyaSoft Poster Maker is a software specifically optimized for editing and printing of graphics and images. All the templates coming with the application are free, editable and customizable. The software comes with:
The editor offers essential tools to fast and easy change any sign. Exit signs are not recommended to be changed. The templates provided in the collection comply with rules and standards and keep high readability and scannability in case of emergency. A person will easily understand the exit sign made from RonyaSoft template on the go.
The exit signs provided in the collection are of proper color, shape, size and feature standard icons. Changing coloring, shape or icons you compromise readability of exit sign.
Making exit signage with RonyaSoft Poster Designer is easy:
Download the software (available from this page on click on green button) and get the application installed. The software does not need additional setting or tuning. If you want you can buy full poster maker.
Start the application and choose a proper category in gallery of templates - choose a proper sign you want to print.
The emergency exit sign will be opened in a graphic editor. We do not recommend changing sign design. However it is up to you. This sign template is completely ready to print.
Hit a 'Print' button on the tool panel. The software is highly compatible with most of the popular printers. You need only to specify a number of copies for printing.
You can use adhesive paper for exit sign printing.
You are done! Mind that RonyaSoft Poster Designer allows you to make your own custom signs from scratch or using available templates.