Wedding 1 poster
Wedding 1 poster template
How to design a Wedding 1 poster
Wedding poster commemorates that special occasion in life of every person as marriage. It helps to preserve the very special moments. RonyaSoft offers the best wedding templates for you to create amazing moments using photos, adding the warmest personal congratulations and completing the wedding posters with various art objects. To commemorate the dearest moments you will need wedding templates and a proper graphic editor! RonyaSoft Poster Designer is of great help for you!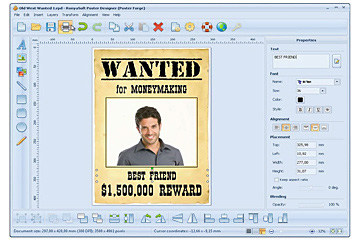 How to make wedding poster with RonyaSoft Poster Designer?
First, download the Poster Designer. You can do this right from this page clicking big green Download button. This is a demo version of the official application from RonyaSoft. The download is free, but if you want you can buy poster maker software here. It contains complete library if wedding templates and other posters: holiday posters, sale posters, poster backgrounds, certificates, banners and others. All of them are easily customizable.
The library contains multiple wedding templates to choose from in various color schemes. On choosing one of the wedding posters from the collection you will get it opened in graphic editor.
Editing wedding poster is easy. You can change background, decoration elements of a chosen wedding template, text objects, its styles and effects.
We recommend starting with wedding poster background and key photo. All of the wedding templates feature a key photo of wedding couple. But you can add creativeness and make a collage of the best photos from the wedding in one poster. There are great many ideas of how to create amazing wedding posters using RonyaSoft wedding templates.
For example, you can add before and after photos as a dating couple, a wedding moment and as a family. You can choose the best moments of the event. You can make different wedding posters for bride and groom. RonyaSoft Poster Designers offers beautiful wedding templates for every your idea.
Edit wedding poster decorative elements. You can add various symbols as white doves, wedding rings, hearts, wings and others, change their colors, size and location. But what is special about RonyaSoft Poster Designer and its wedding templates is adding your personal text. Of course, getting wedding posters from the web is the easiest and the most effortless way, however you will have to accept text offered on a wedding template you download. When creating your own poster from wedding templates from RonyaSoft collection you can add your personal words, add effects to the text, change fonts, colors, styles and place the text as you like!
RonyaSoft makes printing of wedding posters as easy as ABC. You need just to click a 'Print' icon in the application. The software is compatible with popular printer brands and models!
Why to use RonyaSoft Poster Designer?
Poster Designer is an all in one application for home and business use. With this simple tool you will be able to make your own wedding invitations using wedding templates. You will create amazing congratulation posters and print wedding accessories as banners, greeting cards, happy predictions for a just married couple and jokey certificates!