Danger Radiation sign
Danger Radiation sign template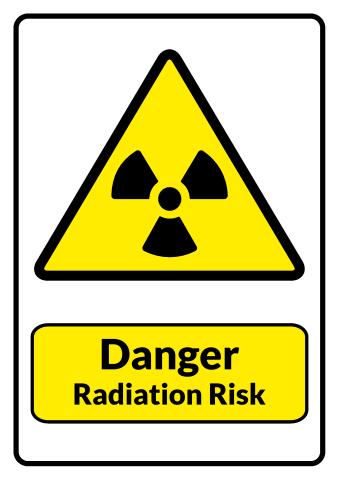 How to print a Danger Radiation sign
Radiation symbol is an essential part of in plant safety program which is placed in locations with high risk of actual or potential presence of radiation. The radiation sign is also stuck to objects, mechanisms, devices, materials or mixes of materials which produce or may produce radiation. Such signs must be placed to warn people to use proper protection clothes, to avoid entering certain locations without proper protection and to warn people against handling radioactive materials or opening containers with radioactive substances.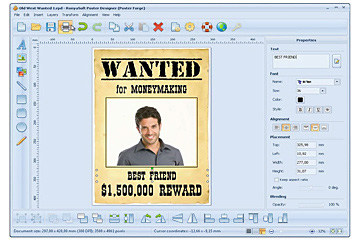 Radiation symbol belongs to the category of caution signs. These signs are designed in certain shapes and colors which must never be violated under any conditions. The colors and radiation symbol forms are approved by the International Organization for Standardization to overcome language barriers and to make the radiation symbol readable and understandable by any person.
The radiation sign features:
Triangle form with black border and yellow background - the colors are chosen for better visualization and reading of the sign on the go. Such colors are noticeable.
A tri-foil icon is placed in the center of a triangle - the icon is also of black color.
RonyaSoft Poster Designer offers you valid template of radiation warning sign which is made according international standards. The radiation sign must only be printed (use only color printing for warning signs!) and stuck to necessary objects.
How to make a radiation sign with RonyaSoft?
RonyaSoft poster maker comes with a collection of templates containing various informational, funny and business signs. All the templates are editable and customizable. You will also get access to a simple yet powerful graphic editor.
To ensure better efficacy of a radiation symbol we recommend adding the sign with a text block which is placed under a warning black and yellow triangle. Do not add text block right under the tri-foil icon in the triangle. While editing and customizing a radiation sign you must keep its readability and clarity on the go.
Get RonyaSoft Poster Designer installed on your computer (download and follow installation wizard).
Explore available options. You can either choose a radiation sign from template gallery (all the templates are free) or to create your own radiation warning sign on your own by using simple tools of graphic editor. You can also upload images (icons and objects) you have found on the web.
The radiation symbol from the RonyaSoft gallery is made up of two parts - a standard black and yellow triangle and a text block located under the symbol. We recommend editing only text block. To boost the efficiency of wording, please, choose emotional words as danger, high risk, lethal/deadly, warning to attract attention of a person. Please, do not use too much of text as this will decrease the efficiency of the radiation sign as people DO NOT read on the go.
Click a text block and type in necessary text.
Save changes and print your radiation symbol by clicking a 'Print' button on the main menu. Specify number of copies.