Business Signs
How to make business signs
Business signs are used to communicate a message to a target group of clients for the purpose of marketing and promotion. The goal of business signs determines its design. Signs for business must be simple to understand, bright and eye catching as well as easy to remember.
Business signs play a great role in attraction customers to sales outlet and to complete in the tough market. Also business signs are used to inform target customers of business hours and open/close time.
But where to get effective business signs?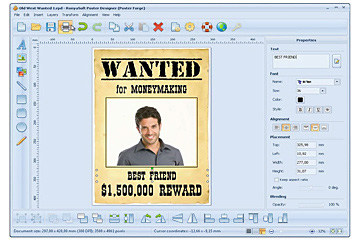 DIY signs for business
It is the simplest way to produce business signs, but the process is simple just from the first glance. When dealing with design process you will understand that it is not enough just to print a word 'open' in MS Word document and change its color. Any business sign must be professionally crafted as its quality can compromise reputation of the business.
Downloading signs for business from various websites
Initiating a search in Google images you will easily find smart looking signs for business to download and print. However it is not as easy. High quality business signs are usually protected with water marks. Ready to print signs for business are poorly customizable. Any graphic editor interprets the sign as a picture. Thus you do not have a chance to move the objects, scale them respecting other objects. Moreover, you will not even be able to change time on a business hours sign. In such a way you can use only open sign and sale sign (as these business signs do not require any customization).
Another problem of business signs, available for free on the web, is being very typical. If using cliche business signs you lose a chance to attract attention of users and to distinguish your company among other businesses in the area.
Creating business signs with RonyaSoft Poster Designer
Download RonyaSoft Poster Designer and you will get access to rich collection of templates of signs, posters, certificates, infographics and other print materials.
For example, a collection of business signs includes not only typical sale sign, open sign, business hours sign. You will discover great signs for business performing your care about customers. Use pay here sign to ease the process of purchase and user experience in your store. Use No Credit sign to warn customers that you accept cash only. It is important to warn customers in advance in order to eliminate disappointment or anger. Using great business signs make your customers loyal.
How to use RonyaSoft for business signs production?
Download and install RonyaSoft Poster Designer. It is a demo version and it is free.
Launch the application and choose Business signs collection on the left of 'The Choose a Template' dialog box. All available signs for business will be open in the central window of the application. Clicking a certain business sign, you will see its full size copy in the right window. Confirm your choice by clicking 'Ok' button.
The business sign will be open in graphic editor. Click any object you want to edit or customize. All possible to apply tools and features will open in right-side menu. Use effects moderately. Remember that business signs goal is to inform user. Keep them readable.
Save your business sign and click printer icon specifying a necessary number of copies.
You are done!