House for Rent poster
House for Rent poster template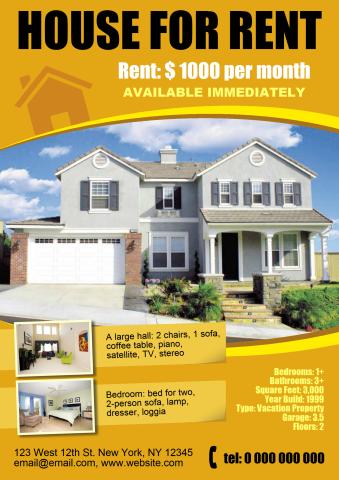 How to make a House for Rent poster
Real estate templates are essential for a successful target client attraction and conversion into a buyer. Properly designed real estate poster will attract attention, inform a target client about the benefits of an offered real property as well as will tell the customer about the advantages of the deal. An effective real estate poster or sign also informs a target client about essentials of the offer.
High quality real estate posters also work for your success. When a real estate ad or sign is made unprofessionally, it will fail to meet the goals and to convince a target customer to use the chance and buy or rent an offered real property.
RonyaSoft Poster Designer offers you high quality real estate templates and professionally designed real estate flyer template collection.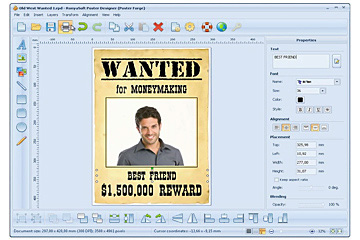 Top features of highly converting real estate templates:
Clear message which is well positioned on the template and is clearly distinguished in design.
High quality pictures which exactly illustrate the offer.
Visible and outstanding call to action.
Noticeable section of contact information.
Well formated text which is clearly seen and easily read from the distance.
Real estate flyer templates which you will find in RonyaSoft gallery match all the criteria of professionally designed posters with the highest conversion ratio!
Choose any real estate flyer template and customize it with simple graphic editor in few easy steps!
How to create a great real estate poster?
If you are looking for real estate templates free download from the web, then you choose a wrong path. Free real estate templates offered on various websites for download are rarely customizable. You will not be able to edit it professionally. And a final result may look rather awkward and non-professional with much time and efforts wasted in vane.
With RonyaSoft Poster Designer you will get:
An unlimited access to the real estate flyer template collection. You will find flyers, great posters, amazing signs and great many templates of printed graphics. All available real estate templates are professionally designed with effective triggers to catch the attention of a target user considering the context and situation in which each template is supposed to be used.
Real estate templates from RonyaSoft are fully customizable and scalable to match the needs of your project. You can change color schemes, size of elements, add and remove graphics and text blocks with simple tools provided in graphic editor.
RonyaSoft Poster Designer offers simple printing tool to optimize your image for high quality printing.
Making a poster from any of real estate templates is easy:
Download RonyaSoft Poster Designer and install the app following the tips.
Launch the app and open a template gallery. Choose Sale Posters section from the list. You will find excellent real estate templates among sales posters. Click a desired template to see it enlarged and confirm your choice with 'Ok' button.
All of templates are ready to use. So you can change as little as only images of real property and contact information in the text blocks.
Each real estate flyer template or poster template is completely editable. When opened in the graphic editor, you can click any element and see available editing options.
RonyaSoft poster maker software offers you real estate templates free download after editing, so you can save the image right to your PC or you can print an edited real estate flyer or poster or sign right from the app!