Poster Backgrounds
How to create poster backgrounds
Poster backgrounds are the most essential element of poster design as namely a poster background ensures clarity, readability and comprehension of information communicated with the poster. Moreover poster backgrounds set the mood of the message and let a reader understand what is the type of the poster and what it is about.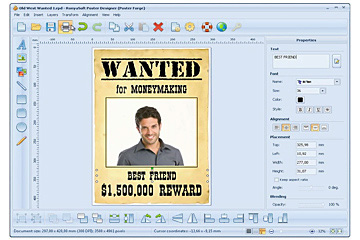 The best poster background is:
Not too busy and does not distract user's attention from the message.
Well contrasted to the main content and keeps the message readable.
Consistent with the message - for example, party poster looks great in pink, blue, yellow, while scientific poster looks better with gray, black, pale green.
Moreover poster backgrounds are not only a choice of background color. A poster background may contain symbols, images, signs.
How to make a perfect poster background?
Poster backgrounds are easy to make at first glance till you get down to designing. Trying to bring together colors, theme, transparency, font styles, images and data, you will see that creating a great looking and effective poster is not that easy.
RonyaSoft offers you a simple tool to get great poster done in minutes. RonyaSoft Poster Designer is a PC application of full poster and banner production cycle. The application provides you a complete design toolkit, an extensive poster design template collection and flexible print setting to get the best result for your mission.
To create an amazing professionally looking poster with Poster Designer from RonyaSoft, follow the next steps:
Download RonyaSoft Poster Designer for free (use the Download button on this page) and install it properly on your PC. This is a full featured demo version to try all available options and features of the application. After you can buy a full version, there will be no further in-app purchases.
Start the application and choose a design you need. RonyaSoft allows you to design certificates, banners, signs and posters. The application offers various posters: for business, education, leisure, household, entertainment, safety and warning. You can choose as a poster design template with present poster background, so you can start from scratch.
A graphic editor will open a template or a blank sheet to start poster or banner creation. You can change poster background in poster design template. To do so, you need to click on background and open poster backgrounds gallery to choose from. Set poster backgrounds for your new design in the same way. In the right-side menu you will see all available tools and features to apply to background to set it right up to your needs.
Why to use poster or banner backgrounds?
Poster and banner backgrounds are efficient time savers. Choosing one of the themed poster backgrounds you are a step closer to mission being complete.
Poster backgrounds offered in Poster Designer by RonyaSoft are professionally made and comply with design rules listed above.
Poster backgrounds ensure professional result with fewer efforts invested.
RonyaSoft Poster Designer is a simple and effective tool to create eye catching informative posters, banners and signs using professional backgrounds templates, and design tools.