Coloring Books
How to make coloring books
Coloring books for kids is a printable line art images to which a kid is supposed to add colors using crayons, pencils, paint as a kid sees the picture. Kids colouring pages are traditionally printed on standard paper. RonyaSoft poster maker include free colouring pages - a nice picture of a cartoon character or a scene from a fairytale. Coloring books are used for educating children as kids are better engaged with entertainment than other educational methods.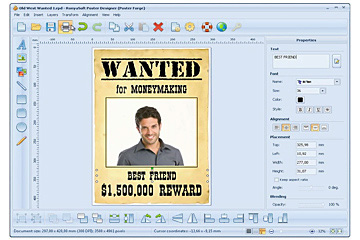 How to make a coloring book?
Coloring books are very effective educational means. Kids coloring pages show a kid an image that is easier to understand and to remember than words or digits. Line art addresses kids' imagination and develops creativity and knowledge of basic geometrical objects. The pages also stimulate fine motor skills.
Coloring books are amazing pages doing magic to fidgety kids. If you need to quiet a kid, then just learn how to make posters and banners at home and you will engage your kid for hours.
There are several ways of how to make a coloring book:
Find line art templates on the web - but this will take time and efforts as to find a proper plot and quality of the kids coloring pages is a great challenge. Most of the coloring books available online are paid, require registration, etc.
Draw your own coloring book with a standard graphic editor - however if you lack design skills and experience, you will be able to create only the simplest objects which will not raise interest in your kid.
Create a coloring book in RonyaSoft Poster Designer - this is the simplest way as the software provides a collection of free colouring pages which are ready to print. Thus you can get new coloring books for kids in a matter of a moment. Even if you kid will spoil one of the pages, you will simply print another one.
How to make a coloring book with RonyaSoft Poster Designer?
RonyaSoft Poster Designer is a specific graphic design software optimized for printed graphic creation. The software supports the full cycle of image production. Here is a simple algorithm of how to make a coloring book:
Download poster designer from this page and get the application installed on your PC. This is a trial version with full set of tools and templates available. Start the application and choose a template. The software comes with an extensive collection of templates of free colouring books for kids of all ages. The templates are editable and customizable.
A chosen template will be opened in a graphic editor. Objects are edited in drag and drop mode. You can add wording using various text styles. Coloring books templates provided are ready to print, thus you do not need to make any changes.
If you still wonder how to make a coloring book at home, then RonyaSoft Poster Maker is a great solution as the application will become an endless source of free colouring pages for kids!