Fire Exit sign
Fire Exit sign template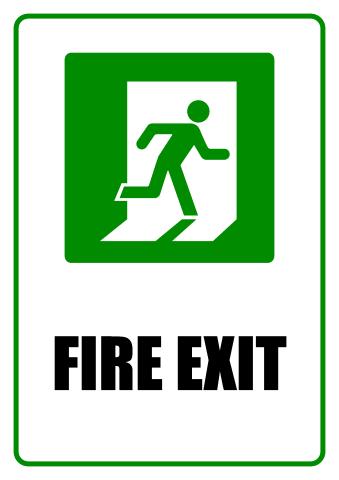 How to design a Fire Exit sign
Fire safety signs are important part of Emergency Exit strategy and are mandatory in public places (as offices, shopping centers, educational institutions) to navigate people out in case of fire emergency. Fire safety signs must be placed near fire exits and doors. An effective fire exit safety plan suggests proper placing of valid fire safety signs across the premises.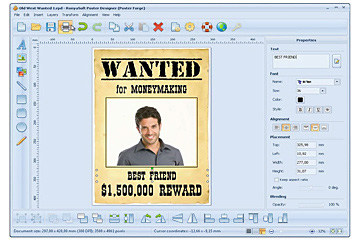 Fire safety sign must keep to the standards and use the international language of ISO graphic symbols which are vital for providing information to people when written text is not relevant to a case (for example, a case of emergency when there is no time for reading). Standard fire safety signs are used internationally and are understood clearly and properly by people speaking various languages.
Fire safety signs belong to the category of safe condition signs according to ISO standards. A fire exit sign should meet international sign standards:
Fire exit signage are of square form, the background is green and the icons are white - RonyaSoft fire safety sign templates are made by the international rules. Though being editable and customizable, we do not recommend changing the a fire safety sign in any way.
Fire safety sign carries the only message - it indicates evacuation routes and assembly points.
In rare cases a fire exit sign can be added with an arrow pointing the direction to the emergency exit.
How to make fire safety signs with Poster Maker?
RonyaSoft Poster Maker offers three major ways of creating fire safety signage:
Use fire safety sign template provided in the collection of signs - the templates are free. All the safety signs are designed according the standards and are not advised to be changed. The fire safety signs are ready to be instantly printed. You can print a sign as it is with no changes done.
Upload a picture you have found on the web and customize it with RonyaSoft graphic editor - it is a perfect way to easily customize a picture you like to use for a fire safety sign. We do not recommend using custom images for fire safety signage as you can challenge readability, visibility and comprehension of a sign.
Create your own signs from scratch using tools from graphic editor - this is the most challenging yet the most interesting way of fire exit sign creation. You will find all necessary objects and tools to make a sign on your own.
To make fire exit sign you will need to install RonyaSoft application (initiate downloading from this page and follow the installation tips). Also you can buy poster maker online.
Launch the application and explore available options: select a fire safety sign templates in the Choose a Template' dialog box and see which options are available in graphic editor.
To make a valid fire exit sign we recommend choosing a template which is standard and print it from the editor. You can make few white arrows on the green background to add to a fire exit sign to indicate the direction to an emergency exit.