High School Diploma
High School Diploma template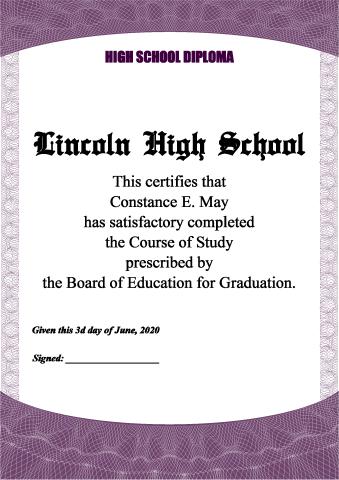 How to create a High School Diploma
High school diploma is a necessary condition for successful admission to college or university. But what if you need make your own certificate for some school event or holiday. If you student or teacher you can deal with high school diploma, university diploma or graduation diploma sometimes. Let us review how to make great funny or fake high school certificate of high quality and with zero efforts.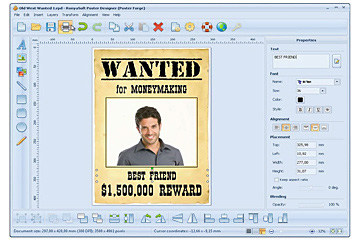 Why you must not download fake high school diploma template from the web?
High school or college diploma features a certain sample. The document must have certain wording, educational institution signs of a certain standard. The wording of high school diploma template must follow a certain order. The signs ad signatures must be at certain lines and parts of the document.
If you find a high school diploma template on the web, please, check it thoroughly. It is better to compare the fake high school diploma template with an original document. Unfortunately, most of the diploma templates, which are available on the web, do not comply with official standards of high schools and colleges. But you can change every element that you need on our templates with RonyaSoft Poster Designer.
How to get a valid diploma template?
RonyaSoft poster maker is an all in one application offering a vast collection of document templates. You will find certificates, high school diploma template and college diploma template for free. All the templates are customizable and editable. RonyaSoft poster maker also offers a powerful graphic editor which allows to make necessary corrections in few simple clicks.
A high school diploma template provided in poster maker template collection is made up to the standards and looks as original document issued by an educational authority. All you need to do is just change the wording:
A name of an awarded person.
A name of a high school or college in case you are editing a college diploma template.
A course or a list of courses which a person is supposed to have finished.
Date and signature.
This is a standard sample accepted by all colleges, governmental organizations and companies.
How to make a fake diploma with RonyaSoft Poster Designer?
If you need a fake high school diploma, then go next steps:
Download RonyaSoft Poster Designer from this page - it is a free featured trial version with all templates available for free. Also you can buy this poster maker on buy page. You will find high school diploma template and college diploma template. There are also university and graduation diploma templates available.
Install the application, launch it and choose a necessary diploma template. It will be opened in graphic editor.
If you are not sure of how a valid high school diploma template looks like, then we recommend not to make much editing and keep the diploma template as it is, just changing the wording. Click on a text block. All available options will be opened and listed in the right side menu. Change text, delete unnecessary blocks and save your high school diploma.
RonyaSoft Poster Designer allows you fast printing right from the application. Just click a 'Print' icon, set a necessary number of copies and hit 'Print' button.
Congratulations! You are done with your fake high school diploma!