How to print a banner?
Christmas banner is a great way to add festive mood and to set Christmas atmosphere at home, at school or at office. But anticipation of Christmas joy can be spoiled with poor attempts to create a banner. There are several available ways of how to make banners:
Order banner printing to publishing houses.
Try to use standard graphic design software as a banner maker and to adjust typical tools.
Use a dedicated banner maker and printer from RonyaSoft.
Using RonyaSoft applications is simple and effortless. RonyaSoft Poster Maker and Poster Printer are optimized to edit and print large format graphics and offer only essential tools to use. Thus the interface of both is simple, logic and clear. RonyaSoft is cheaper than ordering printed graphics from professionals or buying professional design software for your business. RonyaSoft products edit and print banners and posters faster than any other software which is not optimized to processing large format graphics. The software is applicable for multiple tasks from creating simple signs to getting show-window advertising printed.
RonyaSoft Poster Printer optimizes any image to large format printing using only your home printer. It splits an image to several pages of A4 format and optimizes the image to look precise and even when the pieces are printed and aligned.
In tutorials we explain how to make banners and how to print a banner in any format using your standard office or home printer.
In this tutorial we provide step by step instructions of how to print a banner for Christmas with less time and efforts spent! To illustrate a process we will use such Christmas banner:
Christmas banner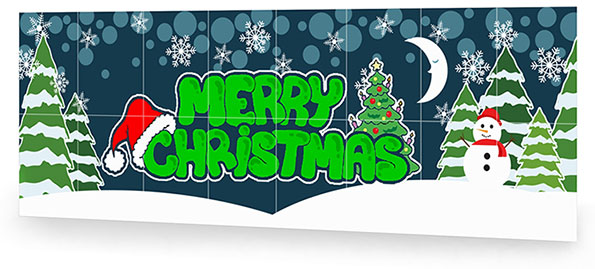 (Click to enlarge)
1) Choosing a banner
This Christmas banner we have created with RonyaSoft Poster Designer:
The Main Window of Poster Designer
(Click to enlarge)
The application provides all necessary tools to create a banner from scratch, to use one of the available templates or to edit a banner you have previously created.
Another option for you is to upload a ready to print banner you have in your collection. You can drag and drop a banner, use standard insert image tool, copy and paste a Christmas banner template. Use any method you like. The result will be the same!
2) Cropping the Christmas banner
A Christmas banner will be printed on standard A4 pages, thus we need to fit the size of out picture to a desired number of A4 pages. The example banner is optimized to 12-page format. To make our image perfectly fit in the specified size we clicked 'Stretch Image' check box. The deformation would be minimal and inconspicuous.
Image Cropping Dialog Box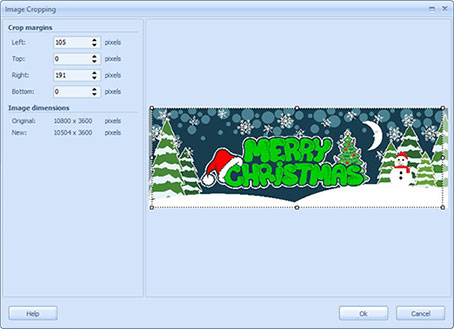 (Click to enlarge)
3) Print setting
We create a banner without trims. To achieve edge to edge result we recommend to click two values 'Print overlap margins' and 'Print glue margins' to be able to align image correctly and precisely.
Then we choose the size and the algorithm of scaling of the image. You will see all available algorithms in a drop down list. For our Christmas banner we chose Bilinear algorithm. You can try any of the available options. If you will not like the result, you will be able to cancel the changes.
Image Scaling Setup Dialog Box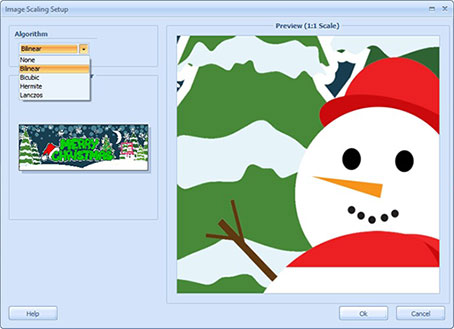 (Click to enlarge)
4) Printing
Final setting of printing:
Set Poster Size Step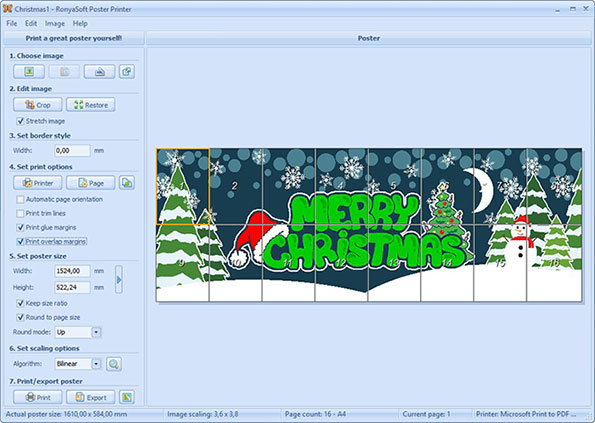 (Click to enlarge)
A major challenge of printing a large format poster or banner is to get all the pieces printed precisely and correctly. Using standard applications does not ensure proper result. With RonyaSoft Poster Printer you can easily get back to banner setting and change certain parameters.
5) Banner Splicing
After your Christmas banner is printed, we recommend to organize banner pieces in a proper order. The next schemes shows an order in which your banner pages must be aligned and glued with each other. To ease the task we recommend to make four modules of your Christmas banner. Align the 1st and the 2nd page and then 7th and 8th pages. Then align two blocks together. You will get the first module.
Repeat the same actions with pages three and four, 9th and 10th, and then align them in the second module. Make the third and the fourth modules in the same way. After the modules are ready, you will easily compile them in a single banner.
Poster Splicing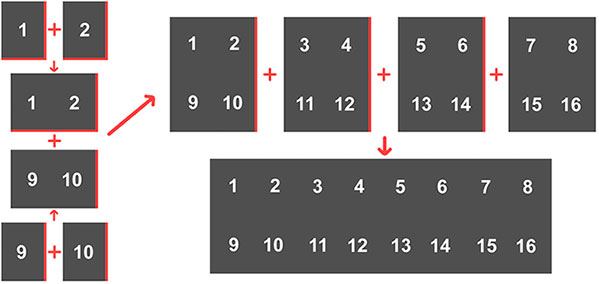 (Click to enlarge)
The process of how to print a banner may seem a bit complicated in theory, but when you start editing and setting to large format banner, you will see that it is simple and easy. Due to simple user interface the software guides you through all necessary steps. Having RonyaSoft Poster Printer installed you can experiment with printing options and clearly see what final result you will get.
RonyaSoft Poster Printer is the simplest solution to the problem of creating a banner.
Why to use RonyaSoft Poster Designer:
A single software completes several tasks for you from printing home and office decorations to completing educational and business tasks.
Banner creator features only necessary options and is not overloaded with useless options as professional graphic editors as Photoshop. Moreover, RonyaSoft Poster creator is much cheaper than professional solutions.
With RonyaSoft Poster Designer you get high quality editable templates to accelerate task completion.
Why to use RonyaSoft Poster Printer:
RonyaSoft offers the simplest way to get high quality, high precision printed graphics. The software optimizes any image to large format printing.
Poster Printer saves time and efforts as professional software features a great learning curve to understand the logic of image processing, and standard applications only waste your time, efforts and paper ensuring poor result.
If you need a powerful banner creator with proper set of tools and options then you can download Poster Printer trial version and try all the options and estimate all the templates available.
If you search for a solution of how to print a banner in a large format using your home or office printer, then banner maker is your choice. Download and try the printing software right from this page. Be sure you will manage to complete any printing mission using only your standard home printer.