How to make a stencil?
Stencil is a way of application of a picture or pattern to a glass or window over an medium tool which features designed gaps which create a desired design or pattern allowing the color to reach end surface only in indicated parts. The term 'stencil' is applicable to both the pattern which needs to be applied to a glass or surface and the print on the surface itself. The top advantage of stencil is that it is a re-usable tool which allows to apply the same symbols to a surface again and again.
Stencils are used to create an ad or a sale banner for shop windows to inform potential customers on sales and special offers. A great ad in the show window of your store is a perfect way to attract attention of potential customers and seduce them to come in your store.
There are two common ways of getting stencils:
Ordering a stencil from a professional print studio.
Making a stencil on your own.
Ordering a stencil from professionals only seems to be the easiest way as the success of the process depends on the qualification of designers, mutual understanding and many other factors. Experience has proven that the result is not as stunning as you expect in most of the cases.
How to make your own stencil on your own? RonyaSoft Poster Printer is a great complex tool which will supply your business and family with printed graphics. This tutorial will explain how to make a stencil for sale in a few simple clicks with our stencil maker.
The sale stencil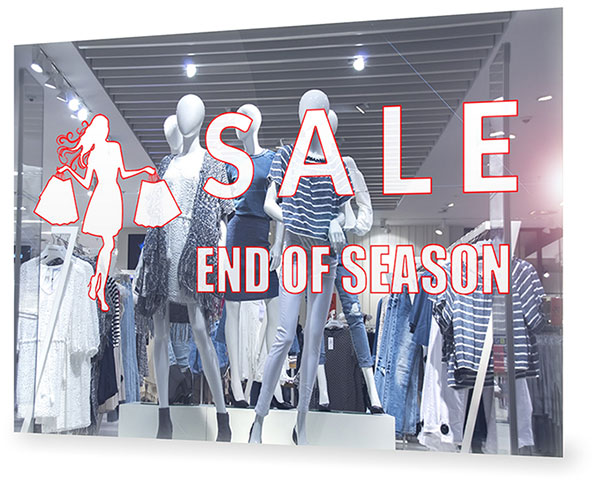 (Click to enlarge)
1) Image choice and arrangement
Start RonyaSoft Poster Designer to choose and image and to adjust it to the needs of a planned stencil.
The software comes with a gallery of templates which are editable and customizable. However you can choose an image you like from the web and upload it to the graphic editor. You can also choose an image from your PC and use 'File' menu to upload the image or just drag and drop it to the editor.
In our example we choose one of the standard business banners provided in the gallery to make your own stencil:
Choose a Template Dialog Box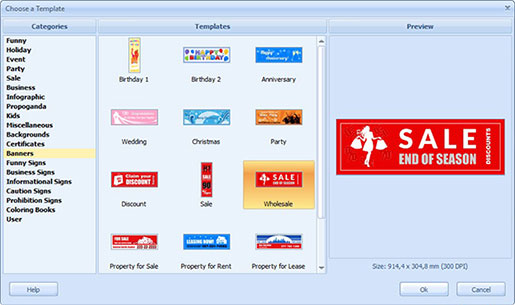 (Click to enlarge)
As you see, we have chosen a banner with red background. We clear the background and change the color of objects to red. The editor uses drag and drop mode. Click any element on the template and you will see all the available editing options in the 'Properties' menu.
Changing the template:
The Main Window of Poster Designer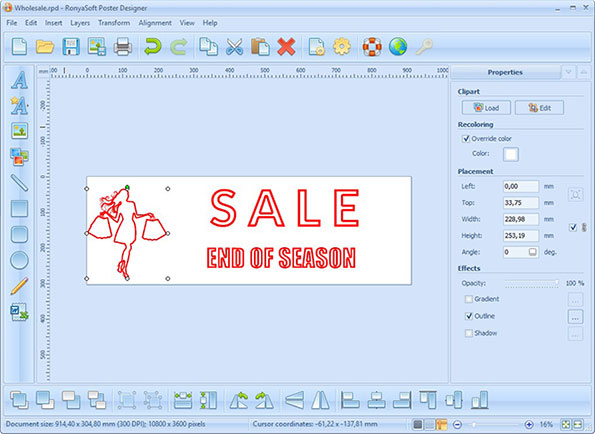 (Click to enlarge)
2) Stencil print setting
Open Multi-print settings in stencil creator to adjust the stencil.
In print settings you can choose any type of printing of additional lines (trim, glue, overlap), depending on the size of a planned stencil as well as on your vision of the end result.
Choose Image Step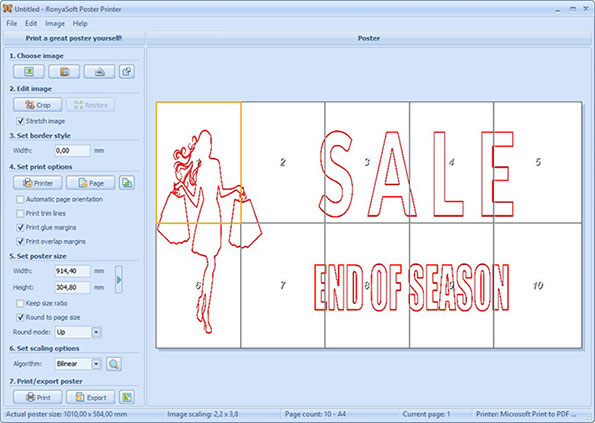 (Click to enlarge)
We optimize the stencil to be printed on 8 pages. You can choose any format your like depending on a size of a final image you need. Then we apply the settings and the software takes us to the step of choice of printing algorithm:
Image Scaling Setup Dialog Box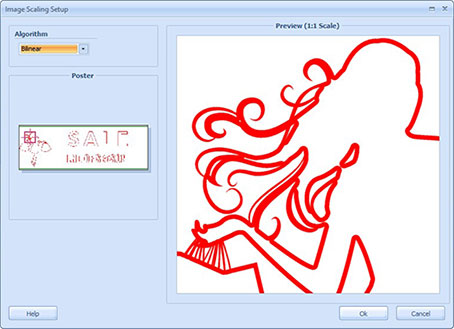 (Click to enlarge)
3) Printing
This is how the final version of adjusted stencil looks like:
Set Poster Size Step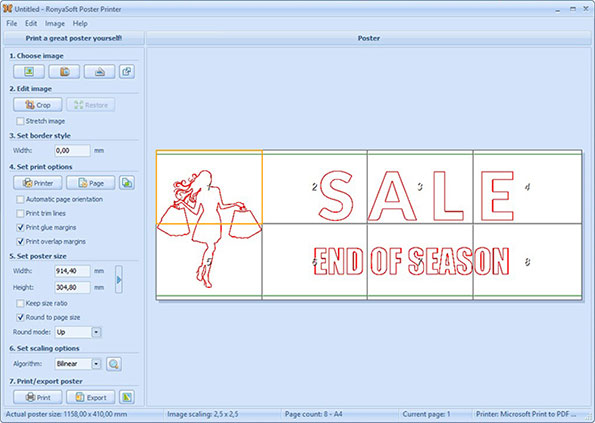 (Click to enlarge)
As we decided to make your own stencil consisting of big words and an image, then we do not need to glue all the pages of the poster. Our stencil will consist of 3 parts: one image and two words.
To get proper parts of stencil we need to glue with each other the first and the fifth pages of the template with an image of a girl. We have placed text in such a way to avoid word splitting in different pages.
The last step of the task of how to make a stencil is to cut the letters and images from paper and to stick them to the shop window of a store. To simplify the task you can use adhesive paper.
This is not the only version of the stencil which you can create with stencil maker. Modifying this version, you can glue all the pages together watching carefully the additional lines. Then cut all the letters and images and use the banner as a stencil for creating an add on your shop window when it is necessary. The stencil can be used not only for shop windows, but for any type of surface you need to decorate or you want to place a message on.
RonyaSoft offers you a simple way to add festive atmosphere to your stencil. Open RonyaSoft Poster Printer and create various decorative elements relevant to the message of the stencil. For example, for Christmas or winter sale you can add snowflakes which are easy to create with graphic editor. For summer sale you can choose one of the party banners and extract form them necessary objects as bright sun and palm trees.
RonyaSoft is a perfect tool for realization of creative ideas with no efforts, time and financial investments.
The stencil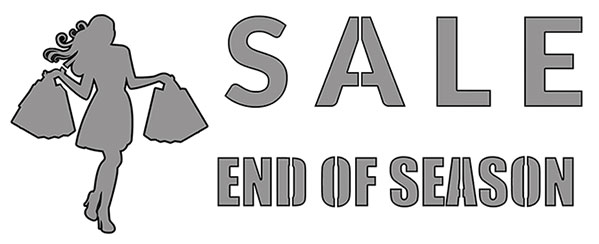 (Click to enlarge)
RonyaSoft provides an essential set of tools for your business to make you independent from design and print bureaus.
The software provides a complete collection of business signs, posters, banners, infographics for any case. The only software will supply your business with all necessary signs. Moreover the collection of templates offers certificates which can be used to motivate and encourage your employees to perform even better.
RonyaSoft solves major problems of large scale printing for your business which is rather expensive if ordered from professional print studios.
Top advantages of RonyaSoft:
RonyaSoft Poster Designer and Poster Printer is cheaper — the software comes with a collection of templates and a graphic editor optimized for creation and customization of business printed graphics.
Poster software ensures a faster process than ordering from professionals — you do not waste time for agreement of the design and for queue of orders.
RonyaSoft allows to bring in changes whenever you need. You can edit and re-print the only page of a stencil you make or just create additional elements with graphic editor.