How to make a mural?
Mural is a fantastic decoration of a wall which uses its architectural elements as a part of image composition. It is the fastest way to decorate a bare wall, to hide aesthetic defects on the wall as well as to create festive mood or quickly give a new look to an old interior with less efforts. The major challenge of mural design is exact printing and aligning the pieces of the puzzle with each other. Using standard graphic design software for large posters creation and large printing takes time and efforts while with RonyaSoft Poster Printer you will easily cope with the task.
From this tutorial you will find out how to make a mural at home using your favourite images, cityscapes or real life photo and create large posters with precise fit. RonyaSoft poster maker allows to create amazing images for large printing and get the task done in minutes. Featuring an intuitive and clear interface the software offers simple tools to compile and edit an image for printing.
With RonyaSoft Poster Printer you will print large posters at home using a standard printer supporting A4 as a maximum format. This cost effective solution will help to cope with a wide range of tasks from printing murals for your home interior, to creating stage sets for school theater and large format advertisement banners for businesses.
To illustrate the process we have chosen a mural poster with a night cityscape which is printed on 6 sheets of A4 format.
The Wall Mural
(Click to enlarge)
1) Choosing and uploading an image
Before you upload an image to use for mural design, please, consider several recommendations:
Choose HD pictures as they are better scalable to large posters format.
Consider interior design – mural design must complete, but not contradict the interior.
Consider all sources of light – if an intended space is dark, it is better to use images in light colours.
You can upload an image in the following ways:
Insert button.
Copy/paste mode.
Drag and drop mode.
Direct uploading from a digital camera.
You will discover corresponding buttons in the dialogue window.
2) Image cropping
The next step is optimizing and cropping the image. To ease the task we fit our picture to 6 A4 sheets. For the image to exactly fit a required space of 6 sheets we clicked the checkbox 'Stretch image' as the deformation would be minimal.
You can crop your image to fit 4, 6, 8, 10, 12 sheets, etc. We recommend estimating a space on the wall and measuring an exact size of mural design you need to decorate the wall.
You can also use cropping option if an image contains unnecessary details or is poorly centered. In this case cropping option will help to eliminate unnecessary details or exactly cut a part of image you want to use in your large posters. Cropping also helps to center image correctly.
Image Cropping Dialog Box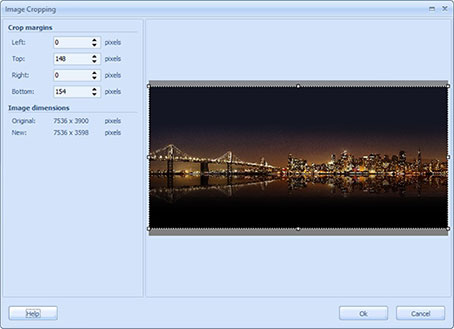 (Click to enlarge)
3) Print setting
Set '0' width in the Set border style window.
In the 'Page Setup' dialog box change 'Glue' value to 8mm or set a proper value. We chose 8mm to expand the borders of glueing as each piece of large poster will be glued with only one sheet pairwise.
Page Setup Dialog Box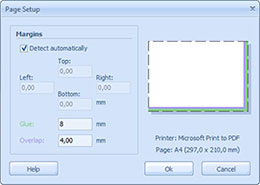 (Click to enlarge)
For exact large printing we keep only 'Print glue margins' active to be able to cut unnecessary margins on those pages which will not be glued as these are modular ones.
Next we choose the size and the algorithm of scaling. You will see a drop-down menu with the next available options:
Image Scaling Setup Dialog Box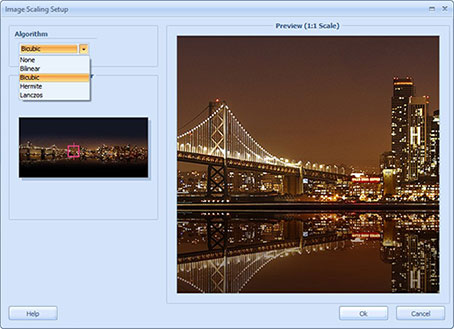 (Click to enlarge)
Mind that applying of complex algorithms for image scaling needs more time. We chose 'Bicubic' algorithm. If you applied a different algorithm of scaling and you do not like an achieved result than you can simply get back to a previous version of your large poster.
4) Printing
Final setting:
Set Poster Size Step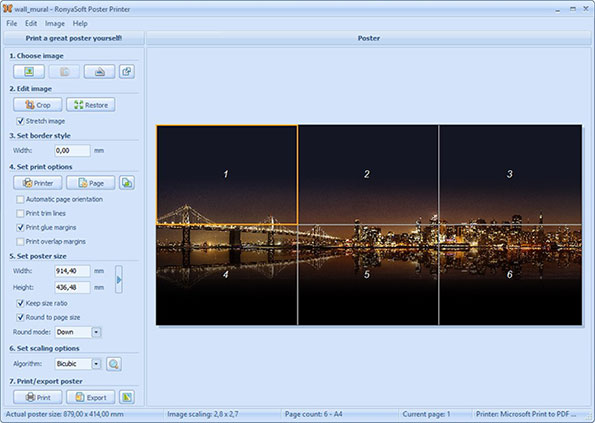 (Click to enlarge)
Large printing is the final step of processing of your poster in the application. On hitting a 'Print' button you will see a final dialogue window in which you will need to select a printer and set a number of necessary copies. We strongly recommend to print only one copy from the start to see how your mural design looks on printed pages.
4) Mural Poster Splicing
First of all you will need to locate the pieces in a proper order and to to cut unnecessary margins before you start glueing pages one to another. If you use the same cropping and fitting method as we did (fitting your mural poster to 6 pages), then these will be aligned in the next order:
First to fourth.
Second to fifth.
Third to sixth.
These three pieces are modular and can be applied to the wall as a single poster or leaving blank space between them. Other trims can be cut as it is shown on the next picture:
Poster Splicing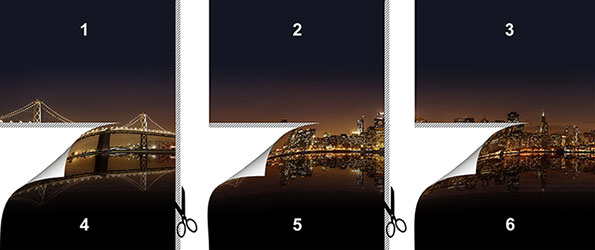 (Click to enlarge)
This poster can be applied to the wall or glued to the frame directly (in this case you can print the pages without glueing margins).
RonyaSoft Poster Printer specifically optimizes any image to large printing. With this application installed you will be able to print any graphics in large format, create amazing mural designs and get the tasks done in minutes. If you wonder how to make mural design at home or how others print amazing mural design posters at home and decorate walls, then try Poster Printer in demo version.
The application ensures fast and simple picture optimization as well as high precision printing with no efforts applied. A clear user interface will help to understand the logic of large format printing. While previously you needed to address the large printing tasks to publishing houses, then now you can do the task at home or in the office.
RonyaSoft Poster Printer is a perfect solution for:
Small businesses running local marketing campaigns and requiring big show window advertising.
Educational institutions of all levels.
Average household as RonyaSoft empowers you to change interior design and print large posters and mural design at home.