How to make a collage?
Collage poster is a collection of pictures mixed together to memorize special moments of life, create a vision board showing your goals and dreams or to simply make a photo collage for fun. You can also make a photo collage for scrapbooking. There are many ways of how to make a collage digitally:
With standard OS graphic editors.
With special collage applications automatically assembling selected photos online.
With RonyaSoft collage poster maker.
From this review you will find out how to make a collage from your favorite and most precious photos. RonyaSoft Poster Designer allows to create pro looking collage poster like this one in few steps.
The Collage Poster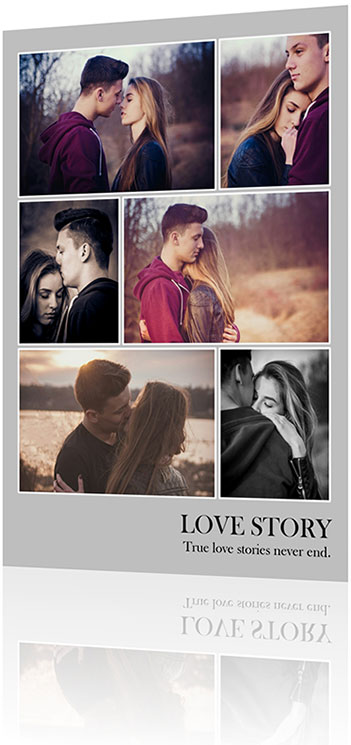 (Click to enlarge)
1) Choosing a template for a collage poster
To make a photo collage with RonyaSoft poster creator you will need to download Poster Designer. It is simple and fast. Follow the instruction of the installation wizard.
To make a photo collage poster you will need to choose a template for your future artwork.
The application will show you 'Choose a template' dialog box. In the left side you will see available categories of collage poster, the central part will show you available in the category templates of collage posters. A selected collage poster template will be opened in the right part for you to see how your collage poster will look like.
Choose a Template Dialog Box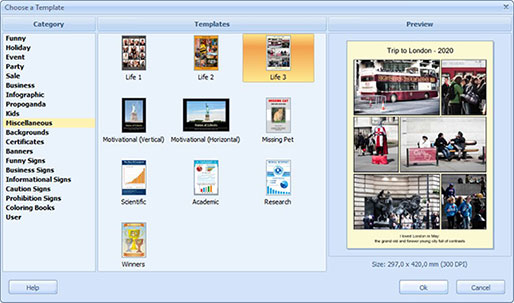 (Click to enlarge)
To make a photo collage from a chosen template of collage poster you will need to click 'Ok' button. Then the template will be opened in a graphic editor. If you want to see other templates, just choose another category. Mind that all the objects of the collage poster are editable and you will be able to change all the elements of the template to make a photo collage exactly meeting your expectations.
2) Redesign of a collage poster
A template of a collage poster is completely editable. The layout and elements of the template are just recommendable, but are changeable. You will easily change or delete any object using simple tools. To make a photo collage like this we have chosen a template of collage poster from Miscellaneous category. However our goal is to make a collage of love story that is why we change the background and text objects.
Changing a background for collage poster.
RonyaSoft collage poster maker offers simple and logic menu to edit any part of your future project. To change a background follow these steps.
To make a photo collage you can use pictures and photos you want. You can also choose a plain color for collage poster background from the setting menu.
Changing text objects.
Collage poster designer from RonyaSoft allows you not only to change text in the text blocks, but also allow to apply new text objects to make a collage more emotional and creative. You can choose from:
Wave text.
Art text.
Circle text.
Projective text.
Choose any desired special text object on the toolbar, place it on a collage poster and type in desired text in the right box menu. This menu also allows to set the font, its size and style as well as to add effects (as Opacity).
The Text Properties Window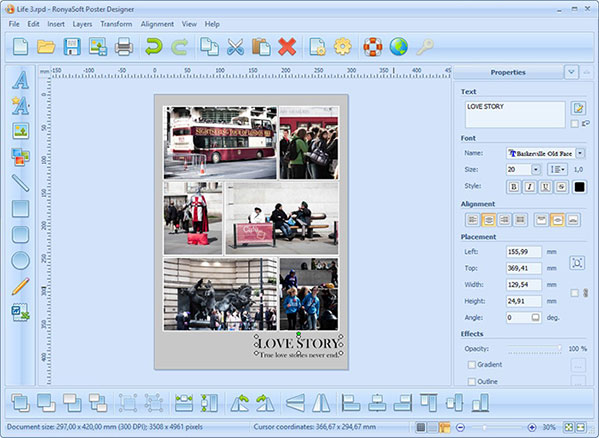 (Click to enlarge)
The next step is to replace standard photos with your personal ones. Click a desired object. A 'Properties Editor' will open in the right part of the graphic editor. Click the 'Load' button and choose the images from your computer for your collage poster. In the same menu you will be able to make basic editing of the collage poster (size, opacity, etc).
To make a photo collage you will need to replace all the pictures from template. Want a creative tip? Some poster collage templates contain beautiful pictures of landscapes, cities, nature. If you wonder how to make a collage more emotional, creative and thematic, then choose a poster collage template with thematic preset pictures and leave some of them in the layout.
The Image Properties Window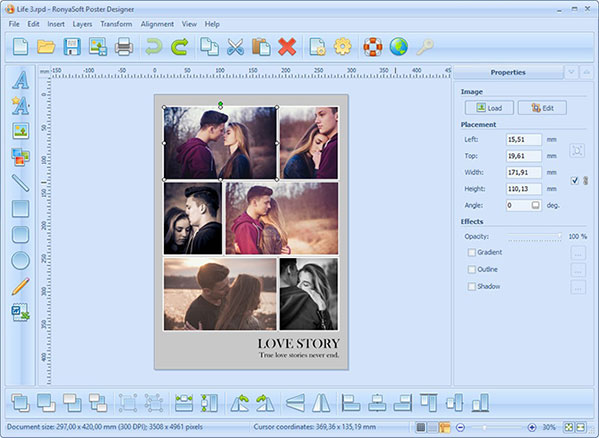 (Click to enlarge)
3) Saving and exporting a collage poster
A final step of the collage poster making is saving the project. To save a just created collage poster is easy. Open 'File' menu and choose 'Save As...' option. The collage poster application from RonyaSoft saves the files in .rpd format. In the dialog window you will choose a final folder on your computer to save the poster.
You can also export the collage poster using the same 'File' menu (Saving a document as an Image/PDF). In the opened dialog window you will set file name, its type, size and quality.
4) Printing a collage poster
Printing a collage poster is simple. You can use a standard option on the tool panel of the application ('Print' icon) or export your collage poster in a specific RonyaSoft tool designed for high quality printing on multiple pages — RonyaSoft Poster Printer. This application works for collage posters exceeding the standard A4 format.
Printout Setup Dialog Box
(Click to enlarge)

Still wondering how to make a collage? Then stop wasting your time trying out various tools. Automatic collage poster makers usually feature limited option, while pro tools make the process too complicated. RonyaSoft offers a perfect tool which reduces the process of collage poster creating to few simple steps and results in high quality photo collages!

See our another tutorials: how to make posters from scratch, create banner, make a sign, certificate or infographic.