Bake Sale poster
Bake Sale poster template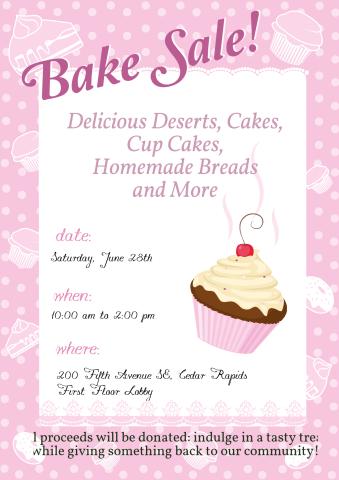 How to design a Bake Sale poster
Bake sale is a fundraising activity of non-profitable organizations as schools, clubs, charity and voluntary organizations aimed at selling homemade bakery foods for raising some cash and attracting the attention of society to a certain problem. To organize a bake sale you need the best bake sales ideas for posters and flyers, attention attracting and guiding signs. Bake sale poster will attract attention of target audience and will inform people on the mission of the fest and will provide a preview of bakery foods. Bake sale signs will guide people to the place of sale and will inspire their interest.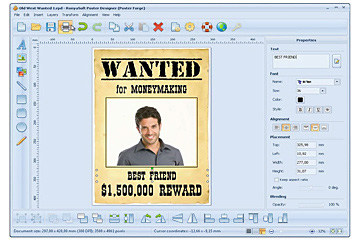 Rules of making bake sale posters
To make the best bake sale poster you will need:
Bake sale ideas - inspirational designs of bake sale posters in different colors and featuring different layouts.
Poster templates - to be able to fast design your own poster.
Eye catching pictures and photos - whatever bake sale poster templates you will find, you will also need real pictures of your bakery masterpieces. People give more credit to real pictures than to pictures downloaded from the web.
A powerful graphic editor tool to compile bake sale ideas, poster template and pictures into amazing bake sale poster.
There are three ways to get a perfect bake sale poster:
Download one of the ready made bake sales posters from the web - these are free, but very stock. Chances are that people have already seen these pictures. If a target person will recognize the bake sale poster advertising your bake sale, then it will like plagiarism.
Download bake sale poster templates from the web and try editing them in your standard graphic editor - choosing this way you will inevitably face low quality, water marks and only few blocks editable.
Get RonyaSoft Poster Designer and create unique and ultimately new bake sale poster from scratch in few minutes.
And do not forget that you need also bake sale signs and flyers for event promotion.
How to design bake sale poster with RonyaSoft Poster Maker
RonyaSoft Poster Maker is an application for full-cycle poster production. The poster maker provides:
A powerful graphic editor featuring only necessary options for production of posters, signs, certificates, ads and many other papers for any home, studying, business and office occasions.
Great bake sale ideas to design posters, signs, flyers and leaflets for your event (you will discover great ideas for any life event: wedding, birthday, graduation, etc).
Bake sale poster templates as well as hundreds of poster, certificate, sign templates.
To make a bake sale poster you need to:
Do not forget to save your edited poster. Print your bake sale sign right from the application!