Propoganda Posters
How to make propoganda posters
Propaganda poster is a piece of bright and engaging visual information aimed at promoting or demoting certain activities, views, lifestyles. The main aim of propaganda posters are psychological influence and change of attitude of target audience toward a specific action, event, behavior. Russian propaganda posters are extremely popular to use in offices to warn employees against improper behavior, eco-propaganda posters are popular in public places to inform and to call out to their sympathy to nature and its limited resources supporting life on earth. Are you enough motivated to start creating your first propaganda poster? Then let us start!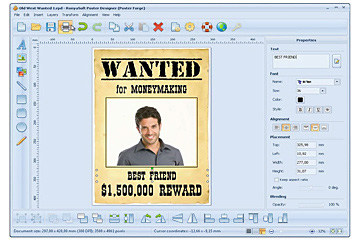 How to make great propaganda posters?
Forget about endless boring online hunting for propaganda poster templates as usually they are of low quality and great propaganda posters are commonly protected with water marks.
RonyaSoft offers a great poster maker to create any banner, sign or poster on your own without specific knowledge, skills and deep research of how to use the software.
RonyaSoft Poster Designer is a simple and cost effective application for home and business usage. Download it right from this page and follow the installation instructions. In a few clicks the Poster Designer is ready to create great propaganda posters for you!
The software offers a collection of poster templates in various categories: business, leisure, events, sales, promotions, holidays, infographics, etc. Choose among great Russian propaganda posters or ecology posters (as poster on save water or electricity).
Before you will get down to creating your first propaganda poster, take notice of the next rules of great and effective poster:
It must be bright - propaganda poster will be useless if nobody will notice it.
The slogan must be short - the effect of propaganda posters is decreased if the text is too long to read.
Propaganda posters must be clever and easy to remember
All other tasks will be easily completed with RonyaSoft Poster Designer!
Step by step guide of how to create propaganda posters in RonyaSoft application?
Choose a desired propaganda poster among available poster templates. Mind that on installation Poster Designer software you will get access to poster templates of different categories. You pay once and get a complete library of great templates for home, education and business.
Confirm your choice. Click the OK button and the Poster Maker will open the chosen template in a graphic editor.
The editor enables you to change as little as only a message of the propaganda poster (you can change text, fonts, colors, styles of the fonts) or as much as the concept of the poster adding pictures and special signs, changing colors and backgrounds.
To find out, what tools are available for every block of propaganda poster template to edit, click a desired block and all the options will open in the right window.
Save your propaganda poster or export it if you need it printed on multiple pages. RonyaSoft Poster Printer will optimize the template for multi-page layout and will print the poster exactly with zero papers wasted!