Party Posters
How to design party posters
Party poster features specific goals as apart from informing a wide target audience, it needs to be attractive and engaging to make people crave for the event. To achieve the goal party posters must be not only bright and attractive with engaging text, but they must look professional and high quality. No one will want to visit a party if a poster looks ugly. To avoid the problem and not to waste time for searching of optimum solutions, try RonyaSoft Poster Designer.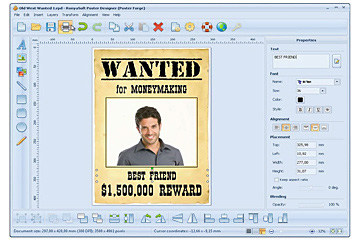 What RonyaSoft Poster Designer is able of?
When planning an event, the least attractive occupation is producing party posters. No matter you are planning a great occasion or a small home party, you want your event to be great and engaging. With RonyaSoft application for poster design you will be able to:
RonyaSoft Poster Designer is a full production cycle software providing you templates, full featured graphic editor and great printing compatibility.
Are there options apart RonyaSoft solution? Of course.
Start from a scratch - find a simple to use graphic editor or design software and master its options and tools in a limited time. Get your imagination wired up and generate ideas for your posters. Try to optimize every block in such a way to fit into a target size of a future party poster and to keep high readability and visibility. Try to print a party poster in necessary format using standard software. Get party posters wasted. Redo formatting. Try again. Too much of efforts?
Find a designer and a printing office - communicate your ideas to a designer, approve the party poster template, approve the color scheme, provide ideas, get finally dance party poster done. Visit printing house, get several dance party posters wasted due to improper format of the poster. Get the dance party poster back to the designer for reformatting. Get the work done again. Go back to the printing house. Get a bill for printing of dance party posters. Get shocked!
If these options are not for you, then RonyaSoft Poster Designer is here. Click on the button to download the software. The application is ready for work right after installation.
With Poster Designer from RonyaSoft you will get: