Motivational (Vertical) poster
Motivational (Vertical) poster template
How to create a Motivational (Vertical) poster
Demotivational posters are the posters with eye catching picture and a clever saying warning a person on probable unwanted consequences of not doing well a certain task.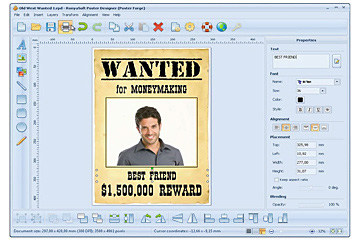 Demotivational posters are a great way to tone your team, inspire your kids for new studying or sport achievements or just to support your friend in dieting. While demotivational posters point the risk and unwanted results, motivational posters show you goals and inspire you to work harder to faster achieve the goals. You can make your own motivational poster in few simple clicks! Learn how to use RonyaSoft poster maker and boost your efficiency!
RonyaSoft Poster Designer for boosting efficiency
Psychologists say that visualization is one of the greatest methods to boost personal efficiency. Funny motivational posters from RonyaSoft are the easiest way to get your own efficiency booster and to speed up goal achievement.
A step by step guide on RonyaSoft Poster Designer
Download Poster Designer from this page. It is a free trial version. Also you can buy poster maker software. The application is paid with no further in-app purchases. The software comes with a graphic editor and a collection of templates. You will discover collages, holiday posters, banners, signs, certificates and others. All the templates are easily customized in the graphic editor.
Choose one of the funny demotivational posters in the gallery. Click a desired poster to see it enlarged in the 'Choose a Template' dialog box. Confirm your choice by clicking 'Ok' button. The motivational poster maker will open a chosen template in the graphic editor.
Select a picture of your goal or visualization of your risk. For example, you dream to earn extra money for vacation or visiting Paris, then your motivational pictures are sunny beach or the Eiffel Tower or a cozy cafe in one of the Paris streets. To enhance the effect of your goal, choose a clever saying. For example, 'Next winter you will see Paris from the Eiffel Tower!'
Funny demotivational posters are created differently. Technically they consist of a picture and a text abstract. But in this case the picture should be a visualization of the most unwanted outcome of your laziness, for example. If you want to get a powerful inspiration to run every day, then choose a picture of a very fat cartoon creature and type a text: 'If I miss running today, I will wake up the same next morning!'
It is very easy to make your own motivational poster with RonyaSoft poster maker is easy. You get a completely customizable template in which you can change background (traditionally it is black), a picture, text blocks, scale and place them as you want. RonyaSoft graphic editor offers numerous effects to apply to text: colors, styles, opacity, shadows.
Do not forget to save your funny motivational poster. You can save your poster to your PC to share it on social networks or send to friends via messengers or email.
With RonyaSoft motivational poster maker you will easily print your 'efficiency booster' in one click.
Funny motivational posters work well in every case and in every place: at school and college, at home or in the office, for your personal or team inspiration! Make your own motivational poster now!