Missing Pet poster
Missing Pet poster template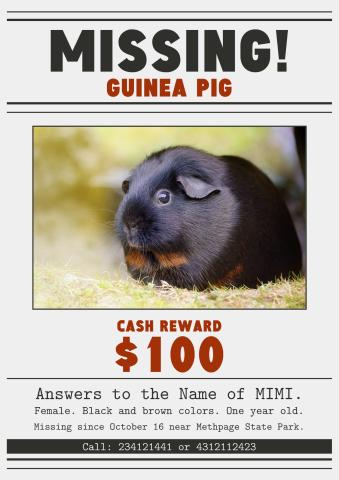 How to create a Missing Pet poster
When your pet is lost, you do not have time to think. You must act asap. RonyaSoft poster maker offers you a simple, but top effective solution to find your cat or dog. Missing poster will help you great. Poster Designer application offers you missing poster template which you will be able to customize and print in a minute.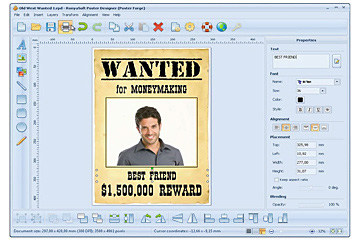 Why to use RonyaSoft for missing poster?
It is fast. Open missing poster template, upload a recent photo of your pet and change the text. RonyaSoft Poster Designer allows to print missing poster right from the application. Just set a necessary number of copies. The library offers optimum missing poster template which require the least editing.
It is effective. Of course, you can make a poster by hand and then make several copies. But with RonyaSoft missing poster template you will get the top effective announcement. Colors of text, fonts, backgrounds are well balanced and make the message clearly and simply readable. You will not be able to achieve the same effect with a handmade missing poster. Moreover, it takes much more time to create and copy. Using missing poster template from RonyaSoft Poster Maker you will be able to create effective cat poster in three steps.
It is simple. RonyaSoft Poster Designer features a clear and simple interface, thus even a kid will easily choose and edit missing cat poster.
How to make a missing poster with RonyaSoft Poster Designer
Download Poster Designer from this page (or click the green button) and install it on your PC following the wizard. Also you can buy full version here.
Launch the application and open the Choose a Template dialog box. Go to Miscellaneous Posters category and choose missing pet poster.
The cat poster will be opened in graphic editor. Just use missing poster template as it is. There are only two blocks you need to edit.
A picture of missing pet. Choose one of the most recent photos. Choose a color photo of high quality in order people can recognize your pet. We recommend choosing a picture of high resolution in order you can print big copies (A4) in a proper quality.
Edit text block. We recommend adding essential information about your pet distinctive features (as collar or scar to make your pet identifiable by strange people). But do not use long texts, nobody will read them. Just put clear facts in the text box: a missing pet, its name, distinctive features, contact information. To inspire people to help in search, you can offer financial reward.
RonyaSoft Poster Designer is compatible with most printer models. Click the 'Print' button in the tool bar and set printing. RonyaSoft poster software ensures precise and high quality printing.
With RonyaSoft Poster Maker you will be able to take actions asap not waiting till the posters will be ready.
It is cheaper then ordering custom posters in print-shops.
RonyaSoft Poster Designer is an all in one solution covering the full cycle of poster production from template to printing. It offers a great collection of posters, banners, signs, certificates, collages for every personal or business event!
See our tutorials: how to make a poster, create a banner or infographic.