Kids Posters
How to print kids posters
Kids poster is a great tool for educating, warning and engaging your kids to get even more knowledge. Kids posters turn any boring subject into an engaging gaming process. It is a proven scientific fact that a game mode is the best way to absorb new knowledge. Posters for kids can be used at home for educating of your kids or at play schools. To make engaging posters for kids you will need a powerful helper!
We are glad to offer you RonyaSoft Poster Designer! This is a full production cycle software with kids poster collection, graphic editor and printer.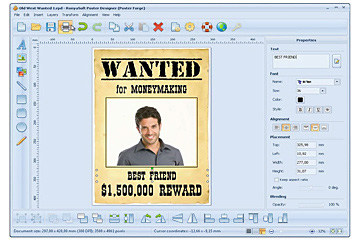 Before you will start creating your first kids poster, you need to know essential rules of great poster for kids:
Kids get engaged easily but they lose interest towards everything in the same fast and easy manner. To trap the attention of kids you need to create a real artwork for kids. Use bright colors and funny pictures for posters.
Kids learn during playing - creating a kids poster, do not forget to add essential educating information. For example, making kids posters with animals, add animal names and transcriptions of sounds each of them produce, state colors of fruits, transcriptions of numbers.
Posters for kids should be bright, but at the same time clearly visible and understandable. Always use contrast colors and kids backgrounds to make poster usable and clear for little users.
RonyaSoft Poster Designer is optimized for creation of all types of posters and offers you the best templates that are ready to use.
How to use a graphic editor from RonyaSoft?
Apart from kids poster collection, RonyaSoft Poster Designer offers you a simple graphic editor to optimize and modify your artwork for kids.
Choose a template you like and it will be opened in a graphic editor. RonyaSoft offers optimum designs for kids, however if you want to change a poster design or color scheme, you will easily do it wit simple tools.
To choose any element of the kids poster you want to edit, just click it. On the right panel you will see all available tools and options for this element.
RonyaSoft offers amazing set of tools to make your kids posters unique. You can edit everything, use specific signs and art objects, add pictures, change text, its style, fonts and color as well as change background. Typically kids background are just plain color. It is not recommended to use pictures as backgrounds as this will make it difficult to distinguish picture on picture.
After all the changes are done, do not forget to save the template. Then you will be able to use it further on for various kids posters again.
How to get RonyaSoft Poster Designer?
You can download RonyaSoft Poster Designer right from this page. The download is free. The software is not prepaid. You will get a trial period of a full featured application to see how it is easy to make engaging kids posters and print them at home.
The application features no in-app purchases. That is why all your expenses on kids poster production will be limited only to printing!