Under Construction sign
Under Construction sign template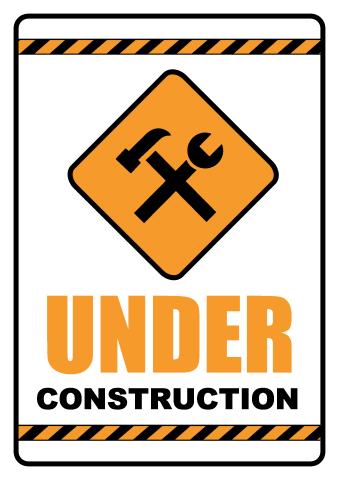 How to make an Under Construction sign
Construction signs are essential safety elements warning and keeping a person out of dangerous area. Construction sign informs a visitor that a building is closed and offices do not operate. RonyaSoft Poster Designer will help you to create valid under construction sign and additional informing posters, banners and signs telling a visitor where you store or office is available at the moment.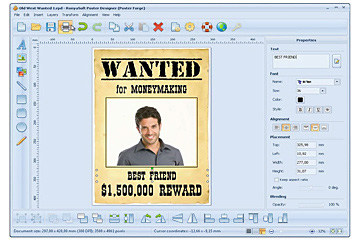 Where to get proper construction signs?
If you are planning a renovation of your office the best way to inform your visitors is to put a construction sign on the door. Under construction sign belongs to the classes of warning and prohibition signs. These commonly does not contain any additional warning wording or messages. But the construction signs are not strictly regulated by the law, so some messages as Keep out! or Warning! are possible.
Standard construction signs are available online. These are ready to print signs. Any editing as resizing or adding new elements will impact the quality of the sign.
Searching for under construction template takes time and efforts. Still the results are rather poor. There are hardly a dozen of proper quality construction signs which are free. All other construction sign templates are paid. Moreover, necessary signs are commonly provided in packs with other signs which will be useless for you.
Creating a construction sign from scratch using standard graphic applications. The process is painstaking and results fall short from expectations.
Use RonyaSoft Poster Designer - the application is provided with a collection of posters, banner, signs and other business and event templates which are completely editable. You will easily resize, add and rotate elements, change colors and add a necessary message to direct your clients to your transitional dislocation. By adding your temporary address you will not lose customers while your office is under construction.
How to create a construction sign with RonyaSoft?
Get the application right from this page. Click the green button to initiate downloading and follow installation wizard to get the application properly set. Also you can buy Home or Business License.
Launch the Poster Maker and open the gallery of business sign templates. Choose a proper under construction template.
The template of under construction sign will be opened in graphic editor. The templates are customized and are ready to print. You can change nothing or do as much editing as adding date of the end of reconstruction, your temporary office address or a contact details. Click an element which you want to change and see all available options in the right side menu.
Print the construction sign right from the editor using a printer button on the panel. In the printing menu you will only need to specify a printer and a number of copies. Mind, that if you need a large print of construction sign, then you can use RonyaSoft Poster Printer.
Warning!
Please, mind that this sign must inform a person instantly. Adding graphics, excessive text or other elements will distract a reader from the prime message. That is why we do not recommend to make ultimate changes of construction sign. RonyaSoft Poster Designers provides a great collection of business signs and posters in which you will easily find a necessary template to inform people on details.