Restroom sign
Restroom sign template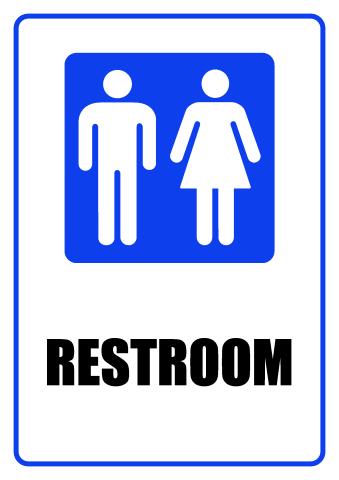 How to print a Restroom sign
Restroom signs belong to the category of informational signs and are an important part of business professional performance, customer and employee care. Restroom and its maintenance may seem a minor issue of office management, but its location, cleanness, convenience and availability are essential parts of business customer care. Toilet sign helps you keep your restrooms clearly and noticeably marked and assists your visitors to avoid awkward questions.
Specific toilet signs will inform visitors and employees about specific accessibility of a restroom (for example, for disabled people). Placing a toilet sign will be a courtesy reminder for visitors and employees. Locating a restroom in your facility should not be a daunting challenge for your guests. RonyaSoft Poster Designer offers you a great choice of simple toilet signs and powerful tools to create your own toilet sign.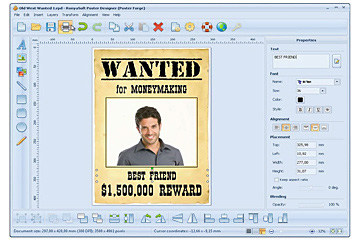 How to create a toilet sign with RonyaSoft?
RonyaSoft is an application for full cycle production of print graphics. It features an extensive collection of sign templates among which you will find ready to print and place toilet sign templates.
The toilet signs are editable and customizable. You can change a toilet sign up to the interior of your facility. You can change colors of ladies toilet sign, add brand identity to emphasize that this restroom is for customers of your business or your employees only. Graphic editor allows you to resize a toilet sign and add elements to a standard template. For example, to guide your employees and visitors to a restroom in a large office building or shopping center you can add arrows or add a text block informing visitors on the exact location of a restroom.
Or you can do as little as only open a necessary toilet sign and print it.
RonyaSoft poffers you three ways of creating a toilet sign:
Use one of RonyaSoft toilet sign templates - the fastest and the simplest way ensuring great quality of a printed restroom sign.
Upload your own images or objects - the most challenging way; the quality of a printed ladies toilet sign will depend on the initial quality of images you choose.
Design your own toilet sign from scratch - the most interesting and creative way of designing a toilet sign.
To make a toilet sign in any of these ways, you need to:
Download RonyaSoft Poster Designer (click the green button on this page and follow the installation wizard).
Explore RonyaSoft template gallery and available toilet signs.
Open a desired sign in graphic editor to make changes or to print.
or
Choose create from scratch. A new document will be opened. You can upload images and toilet sign icons, which you have found on the web, or explore available objects to create a toilet sign from scratch.
Mind these simple rules of informational sign design:
Informational sign must be well readable - thus they must use contract colors (commonly, these are wight for background, blue or black for icon and border);
Toilet signs must use standard icons to be well recognizable - using a new icon may mislead visitors and add challenge to a simple task of restroom location;
Clear text font - it must be large enough to be seen distantly and clear to be read on the go.
RonyaSoft poster maker offers optimized toilet sign templates which are ready to be printed and stuck to the wall.