Halloween 2 poster
Halloween 2 poster template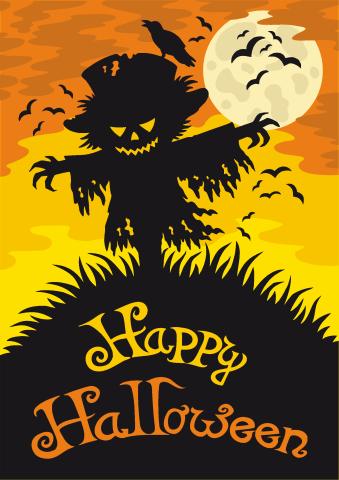 How to create a Halloween 2 poster
Are you planning an amazing Halloween party or just want to set a festive and a bit scary atmosphere in your office on the eve of Halloween? The Halloween poster is a great way to hit the goal. A poster will attract attention to the holiday or a planned event and will inform target audience about a party or a costume face control in the office or at school.
To make a poster you will need great Halloween poster ideas and ready to use Halloween poster template, several background images as well as scary quotes.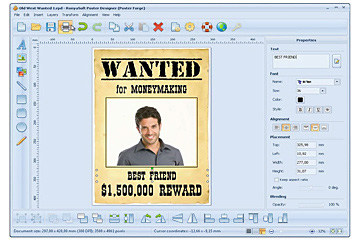 Where to get Halloween poster template?
There are three ways of getting Halloween poster templates:
Web search will result in thousand Halloween pictures of various quality, but not all of them will do for Halloween poster template. The key feature of a template is that you can move, remove or edit every element: from a little bet in the corner to a background and text. A Halloween poster template can be protected with watermark. In most cases removing a watermark compromises the quality of Halloween poster.
Making Halloween poster template from scratch - this is one of the most engaging ways to create a Halloween poster, but at the same time it is one of the most challenging as requires specific software, knowledge and skills to use the software and to create a valid Halloween poster template.
RonyaSoft Poster Designer combines web search as it presents various Halloween poster ideas to choose from and to eliminate web search. The application provides a powerful yet simple graphic editor to create Halloween poster from scratch or to use Halloween poster template. Any template provided in RonyaSoft poster collection is customizable. You can change background Halloween images, add and remove elements, change text and edit its style (size, font, color, opacity, etc.). With RonyaSoft Poster Designer you can do as little as just to choose and print a Halloween poster template or to design a Halloween poster from scratch. An extensive template collection provides numerous Halloween poster ideas. Thus getting a single application solves all the tasks on poster creation:
Provides Halloween poster template collection.
Qives Halloween poster ideas.
Allows to create a Halloween poster from scratch or to edit a given templates.
Ensures fast printing of A4 format posters or to set multi-page printing with RonyaSoft Poster Printer.
How to use Poster Designer?
Download poster maker software right from this page by clicking the green button. It is a free full featured demo version of the application. Also you can buy poster designer online. Follow installation wizard to get the application ready for poster making.
Open the 'Choose a Template' dialog box and choose Holiday posters. You will see all posters available in this directory in the central window.
Click on any Halloween poster template and you will see it large in right-side window. Confirm your choice by clicking 'Ok' button to open a Halloween poster in graphic editor.
To edit a desired element click on it and you will see all available editing options and tools opened in right side menu.
To print a Halloween poster click on 'Print' icon.