Funny Signs
How to create funny signs
Funny signs perform not only for fun and entertainment. They are applied to inform or warn a person on certain unwanted actions and improper behavior as forbidden access, danger, age restrictions. Signs inform people about the purpose of a certain object it is placed on or instructs on the use of objects. In offices warning and informations signs are a must to ensure workplace safety and security. However no one forbids to use funny signs instead of boring and arousing concerns signs.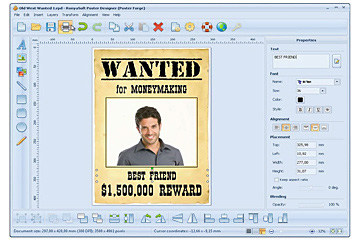 RonyaSoft Poster Designer is your great helper in arranging your house or office safety with funny signs as the application offers:
A great collection of funny signs among which you will find funny door signs and funny street signs, warning and informing signs, restricting signs and just joke signs.
A powerful graphic editor to personalize a funny sign. The editor will be of great use if you want to create an unique sign targeted at a certain group of people or certain person.
Flexible settings for printing signs.
Why to use RonyaSoft Poster Designer to create funny signs?
Poster maker does the job for you. The application already contains a vast collection of funny signs to choose from. Moreover, poster creator allows you to start from scratch and to create your own funny sign from blank.
You can also choosing ready to print signs as every funny sign template is developed and designed by professional designers considering specific goals of signs.
A good sign must be:
Bright, eye-catching and still clear to read.
Extremely informative and deprived of useless data.
Comply with laws of color psychology: red color is used for restricting actions, yellow color is warning, green color is allowing action, blue color is informing. If colors are used improperly, this will cause cognitive dissonance. A target user will get the message, but due to improper colors the message can be interpreted wrongly.
Our designers have done this for you. Every sign works great even if you use a funny sign only for entertainment.
Moreover every funny sign from RonyaSoft Poster Designer collection is editable and customizable.
Choose a funny sign you want to edit. The application will open it in a graphic editor.
Click, drag and drop objects to change their location, free space for additional text lines or add your own photos or pictures. This is a great way to personalize your funny sign and make it even more effective.
If editing is successful and you are satisfied with the result, please, do not forget to save the template of the funny sign to use it later for other signs.
RonyaSoft allows you to get your funny signs instantly printed. The application is compatible with most popular printer brands and models. Printing is initiated right from the tool panel (click the printer icon).
If you print funny street signs, then you can optimize your template to multi-page printing. Use RonyaSoft Poster Printer to ensure precise and high quality printing for funny door signs or street ones.