Old West Wanted 1 poster
Old West Wanted 1 poster template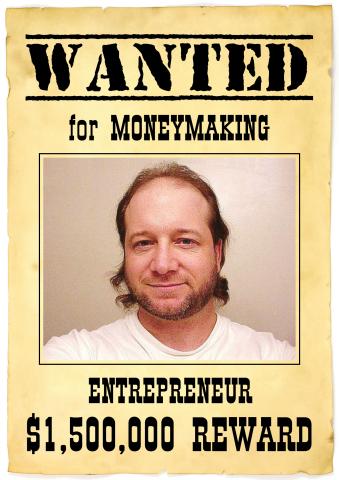 How to design an Old West Wanted 1 poster
How do you look for new employees? How do you look for participants of your course? The best way is to create great wanted poster. It will attract attention of your target audience, sink into the mind and will communicate the idea in simple words. But how to make old wanted poster?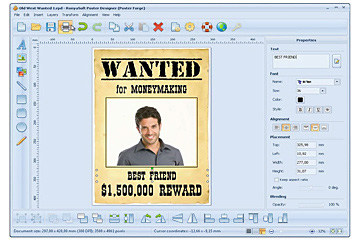 Get a wanted poster template
To start with you will need a wanted poster template. You can search for wanted signs and posters online, create your own poster in any graphic editor from scratch or to use RonyaSoft poster maker. Which way is better?
Find a wanted poster template online
Free wanted poster templates are great, but they are poorly customizable. In most cases free versions of wanted poster pictures are of low quality which is absolutely inappropriate for real-life full size printing. High quality most wanted posters are paid. Another challenge for you is to find a proper graphic editor which will process the image of the type.
Make a wanted poster from scratch in a graphic editor
To make a wanted poster template you will need to have:
A proper graphic editor featuring all necessary art objects in order to save time on creating every part of a wanted poster from scratch.
A talent and a taste to create really great wanted poster
Necessary design skills and knowledge - without certain knowledge you will not know in which order to create and process the layers, which colors shrieking against one another, which text style will reduce readability, etc.
Many users face the problem of creating wanted posters which look pity. Moreover, creating old wanted poster takes times and efforts. If you need it as soon as possible, then you need a more efficient solution.
Use RonyaSoft Poster Maker
RonyaSoft has created a line of digital tools to ease poster creation. All you need to do is to click a Download button and to install the application on your PC. This is an official application, developed by RonyaSoft. It is safe. It does not require your credit card and does not imply in-app purchase.
RonyaSoft features a great collection of templates. Installing only one application, you get a powerful tool to create posters, certificates, banners, signs for your home and business in a few clicks and effortlessly.
A collection of wanted signs and wanted poster templates provides you a great choice of layouts and color solutions. Open the gallery and explore the variety of posters. A click on a desired poster will open it in a right side 'Choose a Template' dialog box. Just confirm your choice with 'Ok' button.
RonyaSoft provides you a simple but efficient graphic editor. Each wanted poster template is customizable and editable. Click any part of a chosen wanted poster template to see available options and tools. Drag and drop mode makes editing simple and easy. Upload a picture, a real life photo or a movie actor, create a catching title and add details of your offer in short.
After editing do not forget to save the wanted poster. The wanted sign can be printed right from the editor using 'Print' button. For multi-page printing of commercial wanted signs RonyaSoft offers Poster Printer application.