Movie 2 poster
Movie 2 poster template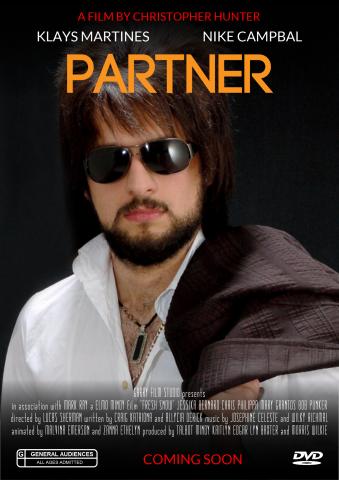 How to create a Movie 2 poster
Movie posters are a great entertainment for kids, the best marketing way to advertise a product or service as well as just a nice hobby. Some rare movie posters may be of great value for connoisseurs of cinema art. Find out how to make a movie poster on your own in a few clicks!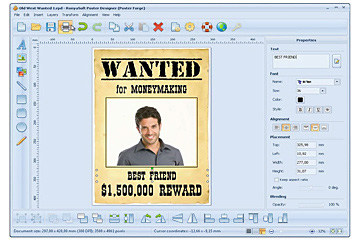 How to create movie poster?
RonyaSoft offers you a simple movie poster maker which you can download right from this page or read more on download page. The installation will take only up to 5 minutes. It is an official RonyaSoft product with no ads and no in-app purchases. It is a free full featured trial version. If you liked it you can buy software here.
Start the application. The movie poster creator comes with a collection of templates to customize and edit up to your taste and needs. In the left side menu you will see categories of print solutions you can create with RonyaSoft. On clicking a category of posters you will see all available movie posters in a central window. Click a desired movie poster template and you will see it opened full-size in a right side menu. Confirm your choice by clicking 'Ok' button.
A desired movie poster template will be opened in a graphic editor. All the movie poster templates in the RonyaSoft collection are editable. The graphic editor is simple to use featuring a full set of tools and editing options. Click any part of the movie poster template. You will see all available options and tools to apply to this part in a right side menu. The editor uses drag and drop mode.
You can change images, background, text blocks and add objects to your movie poster.
How to make a movie poster eye catching and memorable?
Choose a unique picture for your movie poster template. The image is a central part of movie posters. We recommend choosing a close up shot from the key scene of the movie. By changing transparency you can add several movie scenes on your movie poster template using one as a background and another one as key picture.
Create memorable heading. Using just a film title is boring. Create something unusual and memorable. Try to use pun. This will work better. Express your attitude towards the movie: The best film I've ever seen. My first horror movie. The #1 weeping movie. Switch your imagination on. When the heading is ready, choose a perfect font style for the title. RonyaSoft movie poster creator offers a great variety of fonts, styles and colors to apply from funny cartoon fonts to elegant and romantic ones.
Apply contrast colors to place accents. To accentuate titles of movie posters add shadows and change transparency.
Why to use RonyaSoft movie poster maker?
RonyaSoft allows to create movie posters which look professional only in few clicks.
The application covers a full cycle of poster production delivering usable movie poster template. Having installed RonyaSoft movie poster maker you will get a great template collection, a powerful editor and a stable high quality printing solution ensuring precise print of movie posters with no waste of paper and efforts.
Need to print a movie poster on multiple pages? Use RonyaSoft Poster Printer - a special software edition for easy multi-page printing.