Funny Posters
How to design funny posters
Funny posters are a great way to congratulate, motivate or joke at your friends, colleagues or kids. RonyaSoft Poster Designer offers a great collection of funny poster templates including road billboards, magazine covers and newspapers, wanted ads and film posters. All of the templates are free (you do not need to buy templates additionally), customizable and simply editable.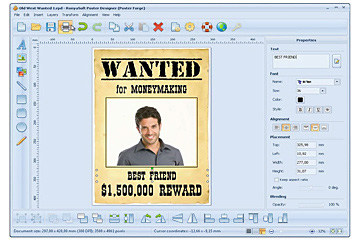 How to create a funny poster with RonyaSoft poster maker?
Creating funny posters with RonyaSoft Poster Designer is a real fun as for kids so for adults. First of all, you need to download poster maker from RonyaSoft (you can make this right here by clicking big green button).
The collection of funny poster templates is already included. You do not need to additionally buy or download anything.
Install the software following the installation wizard. It will take up to 5 minutes. Start the software. The application will take you to the gallery of templates. The poster maker offers you funny posters, holiday, event and party posters, sales and business posters as well as infographic.
Open Funny Posters category in the left menu. A selection of available posters in the category will open in the central window. Clicking on a desired poster you will see it in the right side of the screen. If the template is exactly what you need, you click OK button. The funny poster template will be opened in a graphic editor.
RonyaSoft graphic editor is simple to use. Click on any object on the funny poster template and you will see the options available for its editing in the right side menu.
The funny poster templates are completely customizable. You can change background, upload photos, change fonts (RonyaSoft editor offers over 50 additional fonts for ultimate customization), add effects to make your funny poster look professional and high quality.
The collection of poster templates offers you a choice of funny movie posters to make your funny poster look like a movie bill.
After editing is done, please, do not forget to save your funny poster. You will be able to use it later on as a template. All the posters created with RonyaSoft Poster Designer are exportable in standard graphic formats. So you will be able not only to print film posters, but to send them via email or messengers, post on social networks or use a funny poster on your website.
How to print funny posters?
First of all funny posters are bright and eye-catching, thus we recommend using only color printers. RonyaSoft poster creator is compatible with most popular printer brands and models.
To print funny posters of standard size:
Save an edited funny poster.
Click print button on the upper tool panel of the graphic editor.
Set printer and paper in the menu and click Print button.
If you need a funny poster of a bigger size, then:
Save your funny or film poster.
Download RonyaSoft Poster Printer software optimizing your posters for multi-page printing.
Export your saved funny poster to printer application and set a desired size and printer in the menu.