Seminar poster
Seminar poster template
How to create a Seminar poster
Presentation is an essential tools on seminars to inform participants on important data, to make values easily scannable and recognizable. RonyaSoft Poster Maker offers a complex solution for seminars, meetings, tutorials and classes. Poster designer software comes with extensive collection of templates among which there are and conference presentation template to attract attention of your target audience and to inform on the event and a poster presentation template for simple and clear data communication.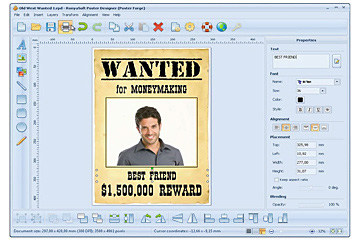 To make your seminar, meeting or class successful you need to ensure great visibility of ideas and data. To make your presentation clear you need:
A great presentation template which you will find in the template collection of RonyaSoft Poster Designer.
Well sorted data - mind that people will not be able to read big abstracts of text or digits. Thus you need to optimize not only the graphical presentation of data, but make them concise and precise.
A simple yet effective tool to manage and present data on paper.
How to make a poster with presentation template from RonyaSoft.
RonyaSoft Poster Designer is a complex tool for visualizing and presenting any data to wide audience. You can download a free trial version of the software or buy poster maker online.
Poster Designer comes with a great collection of templates. To find poster presentation template you will need to launch the application and to choose Event posters among all templates.
In the central window you will see all available templates in the category. Click any poster presentation template to see it enlarged in the right side window. If you like the template, then confirm you choice by clicking 'Ok' button.
Decide on the goal of your poster: to attract attention of users to a planned event, to inform about event and to convert them (make people attend your event by telling them the benefits of participating in your seminar or class).
Decide on the data you will present on your poster. Presentation template is fully customizable and can be changed as little as only editing text blocks or as much as changing background, adding images, graphics, brand identity.
Open poster presentation template. Click any area on the template and you will see all available options opened in the 'Properties' menu. While editing content of presentation template, please, mind the next rules of readability of data on paper:
Keep contrast - do not apply green text on red background.
Apply colors moderately - getting too many colors on one presentation template will make it hard for a user to read and comprehend information.
Give free space to text to keep it clearly visible - intensely stuffed text and data will make your presentation template poorly readable.
Save your presentation template to be able to print it once again. Printing of the edited poster presentation template is simple. You can print it right from the editor or get RonyaSoft Poster Printer to get conference poster template printed in large format on multiple pages.