Quiz Night 2 poster
Quiz Night 2 poster template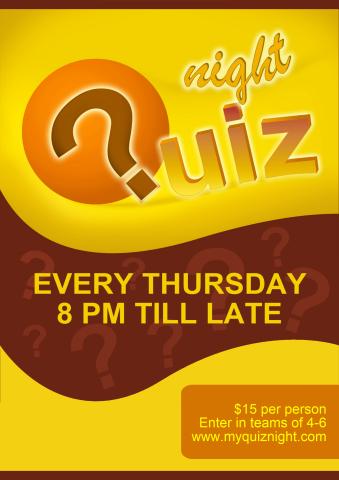 How to print a Quiz Night 2 poster
Quizzes are extremely popular. This is a kind of mind sport challenging people and boosting their gambling. Quizzes are a perfect way to acquire and check knowledge for kids and students. Quizzes are top placed among team building tools. To make a quiz is easy. But to attract people to your event you will need an inspiring quiz night poster.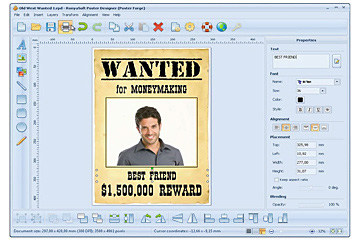 Quiz poster is a printed paper attracting audience to the event and informing om time, place and theme of the upcoming quiz to allow participants to get ready and to update knowledge of a subject. To achieve its goal (to attract and make people come) Quiz night poster must:
Be bright and noticeable - to make people see quiz poster even in a hurry.
Scannable and readable - consider all types of readers: some will quickly scan the poster, while others will read line by line.
Clear and informative - to make people come quiz night poster must tell where the even will take place, when it starts, how long will it last, what is the theme of quiz and what is the bonus/benefit they can get.
RonyaSoft poster maker completes all the tasks for you.
How RonyaSoft makes the best quiz night poster for you?
RonyaSoft Poster Designer is an all in one solution for full cycle poster production. A single software provides:
Quiz night ideas - just browse the collection of quiz poster templates and choose the one which best meets the goals of a planned event.
Variations - choose a quiz night poster template free. The software comes with free collection of fully customizable templates which you can edit as little as only changing text or as much as deleting elements and adding brand identity.
Simple graphic editor - open a quiz night poster in graphic editor and get the template done in few simple clicks. The editor features clear information and tools architecture as well as well as drag and drop mode of changing elements, replacing and resizing them.
Simple printing solution - you can print quiz night poster right from the editor. RonyaSoft Poster Designer is compatible with most of the models of popular printer brands. If you need to print your quiz poster in format larger than A4, then RonyaSoft offers you Printer Poster - an application which will print your poster on multiple pages correctly. You will easily align printed pieces and get a high quality, full-size, professionally printed quiz night poster!
The competitive advantages of RonyaSoft
Getting a single software you will get access to an immense collection of poster templates to complete your everyday office, marketing or studying tasks.
The graphic editor provides only essential features in order not to clutter the interface, not to distract attention and to streamline the workflow.
Full cycle production - from ideation (it will be easy to find amazing quiz night ideas) to production and printing.
RonyaSoft Poster Designer will assist you in creation of great quiz night poster in few easy clicks! Download or buy full version the software right from this page and make your first quiz poster!