Event Posters
How to design event posters
Event poster is the simplest way of attention attraction to an upcoming occasion. Event posters are widely used in the movie-making and marketing due to eye catching design, simple communication of message and low cost of production. However, if poorly made, the poster will decrease loyalty and will trigger laughter. To produce a high quality event poster you will need a well done event poster template which is editable and customizable.
RonyaSoft Poster Designer is an optimum solution for you offering great event poster design solutions at a reasonable price.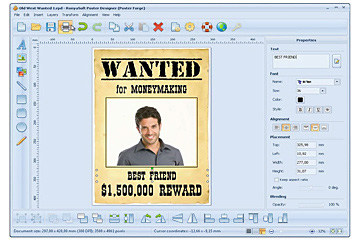 How RonyaSoft Poster Designer works for your events?
RonyaSoft Poster Designer is an application covering a full cycle of event poster production with a complete set of tools. The application offers you to:
Event poster template is a perfect option for you. Poster Designer offers a big choice of templates for personal and commercial use: birthdays, weddings, back to school, quizzes, auctions and shows, circus performances and fundraising.
RonyaSoft event poster templates vs ready to use posters vs making on your own.
There are three ways of creating event poster:
Making on your own - you will need specific designer software, templates or ideas how to effectively place blocks, time and efforts, high quality pictures and iron nerves. The result of creating event posters on your own is in most cases far from perfect
Searching for ready to use templates - such event poster designs are non-customizable and are hard to edit. You need to accept the template and the key elements it has. In most cases such event poster templates are non-scalable and ca be printed only on A4 format. Need more?
Event posters from RonyaSoft - the application offers a variety of templates for any occasion and event. All the templates are customizable and editable. With RonyaSoft Poster Designer you will create personalized posters and event flyers with ease. The applications offers simple graphic editor and powerful printing options. Using the full set of applications from RonyaSoft you will easily print your posters of a necessary size.
How to make an event poster with RonyaSoft application?
Download poster creator on your PC and start. Poster creator wizard will take you to poster template collection in which you will need to choose a theme of posters, for example, event posters. Click OK, if this event poster template is what you are looking for. Mind that you will be able to change colors, fonts, add and delete blocks and text, upload pictures to a chosen event poster template in the editor.
The editor of event poster templates uses drag and drop mode to locate the blocks. Clicking a block to edit, you will see a menu with available options and tools for this block in the right side of the editor.
Do not forget to save your event poster template. Export the template using standard File menu or click a printer icon to set printing and get your event poster on paper!