Gift Certificate 1
Gift Certificate 1 template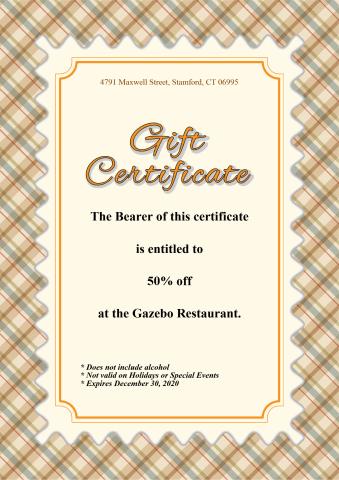 How to make a Gift Certificate 1
Gift certificate is a perfect present, a marketing tool and a basic element of any loyalty program in business. While big businesses use gift certificates on a commercial scale, small businesses just can not afford professional printing of branded cards. For small businesses RonyaSoft gift certificate maker is an optimum solution. Find out how to make your own gift certificate with RonyaSoft Poster Designer and save a fortune.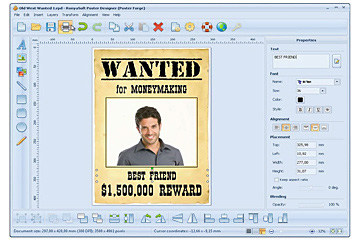 How RonyaSoft gift certificate maker helps you
RonyaSoft certificate maker is an all in one solution for home and business use. Buying the software you get gift certificate template collection, other templates for various business and household needs as well as a powerful graphic editor which is optimized to editing and customizing documents, posters, banner, signs, coloring books etc.
What are the competitive advantages of RonyaSoft:
It is the only application you need to cover a full cycle of production of any printed ads, loyalty program documents, signs for your business or household.
All templates are free. The vast collection of documents will cover all your business needs.
Gift certificate template as well as other templates is optimized to the industry standards. They are ready to use. You can edit only wording and print free gift certificate template or try to customize your certificate and add brand identity to the document. With RonyaSoft graphic editor it is simple and easy.
Graphic editor is optimized to editing and customizing documents. Thus it does not offer useless features and tools which you will never use but which will disorient a user.
The application features simple, intuitively clear interface. To use it your employees will not need specific skills or knowledge. Every feature is optimized to be clear from the first sight and touch.
It is much cheaper than ordering gift certificates from pro editing houses. You make your own gift certificate and print it in a necessary quantity without keeping to minimun order quantity.
A process of creating a free gift certificate template and customizing a template takes a few minutes. You save time as you do not need to wait while your order from pro editing house will be processed.
How to use RonyaSoft Gift Certificate Maker?
Download the Poster Designer right from this page by clicking green Download button. You will get a free trial vesion. It is a full featured trial.
Install the application following the wizard and start gift certificate maker. Open the gallery and choose a free gift certificate tempalte. It will get opened in graphic editor after you confirm your choice.
A gift certificate template contains all essential element. So you can do as little editing as only change the value of the gift certificate.
Make necessary editing of free gift certificate template. The graphic editor allows you to add and remove blocks. To add brand awareness to the gift certificate we recommend to make a major customization update to a gift certificate template adding brand identity as colors, fonts, logos, motos, etc.
Save a gift certificate. When customized and saved you can use the same gift certificate template for minor eiditig and fast printing.