Certificate of Marriage
Certificate of Marriage template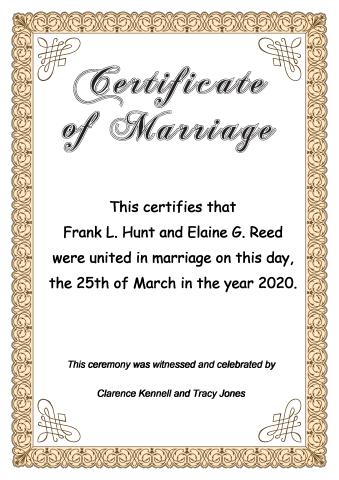 How to create a Certificate of Marriage
Marriage certificate is an official document that states two people getting married. While a couple will get an official document from an official government authority, you can congratulate your friends with an unofficial document issued by friends and close people attending this prominent event. To create a congratulating document you will need a marriage certificate online creator. RonyaSoft poster creator will help you to meet the challenge!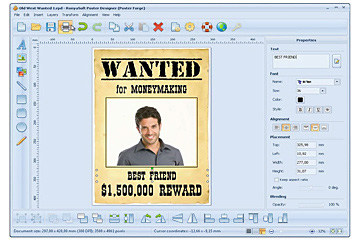 How to make a marriage certificate with RonyaSoft?
The algorithm of actions is simple:
Download RonyaSoft Poster Maker and get the application installed - the software is available from this page. Click the green button and you will get free featured demo version which is enough to try all the tools provided or buy full version.
Choose marriage certificate form from the gallery of templates - the RonyaSoft poster application offers free access to the collection of templates.
Open a chosen marriage certificate in the RonyaSoft poster editor and change wording.
Let us review all the steps in some details.
Downloading and installation of RonyaSoft Poster Designer
RonyaSoft poster maker is a complex tool for full cycle poster production. The software is simple to install and use. Its interface is clear and the layout of tools is logic and intuitive. Right after the installation the application is ready to use. Apart from marriage certificate, you will be able to create and edit funny posters, collages, banners and posters for popular events as Christmas, Easter and Halloween, caution and informational signs.
Exploring template gallery
RonyaSoft Poster Designer comes with an extensive collection of templates of posters, certificates, signs, sale ads, banners and coloring books for kids. All templates are customizable and editable with RonyaSoft editor. All the templates are free. The software does not suggest in-app purchase. You can also try finding marriage certificate online and upload a template to the editor. However such a template can be poorly customizable.
Editing marriage certificate
Open a desired marriage certificate form in RonyaSoft editor (confirm your choice of template in the gallery clicking 'Ok' button - this will open the template in the editor).
RonyaSoft offers ready to use marriage certificate template. You can edit as little as only changing the names and the dates. However, if you want to make the marriage certificate form more personalized, then RonyaSoft Poster Designer will help you to edit every object: background, wording, colors, text style, etc. To make the marriage certificate even more personal, you can add pictures taken on the official ceremony. This marriage certificate is not an official document, that is why you can customize it as much as you desire. To edit any block of the marriage certificate, click a desired area and all available options which you can use will be opened in a right side menu.
Saving and printing marriage certificate
When your marriage certificate form is ready, please, save the template. RonyaSoft poster maker offers you a simple way to print the marriage certificate. The software is compatible with most popular models of printers used in offices and at home. Printer settings are simple. You need just to select a printer and to specify a number of copies you need to print. And you are done!