Certificate of Completion
Certificate of Completion template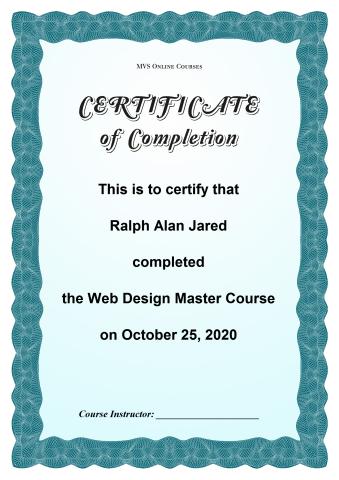 How to design a Certificate of Completion
Completion certificate is a document signifying that a person has completed a course in a science, practical classes or tutorials. Course completion certificate is created following document standards of an educational or training institution. To create your own completion certificate RonyaSoft offers you proper certificate of completion template and a tool which allows to edit and customize the sample in few clicks.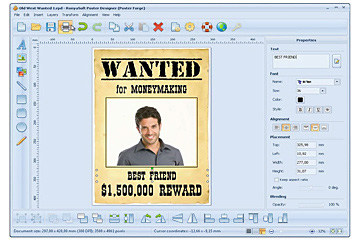 How RonyaSoft helps you to create a completion certificate?
RonyaSoft Poster Designer is a tool for full cycle of production of branded documents: certificates, signs, posters, infographics, banners and other printed documents. The application offers a gallery of templates in which you will discover certificate of completion template free samples, posters, banners and signs for your business and hobby.
Certificate of completion template in RonyaSoft collection meets the standards and requirements of official documents and keeps all necessary blocks of text. It requires minimal efforts to edit and customize. If your company does not have any brand identity as fonts, colors, logos, then you can just change person's name and the name of the course completed.
If you want to get a completion certificate featuring your brand colors and signs, then RonyaSoft poster maker offers you a simple yet powerful graphics editor allowing to change color scheme, add, edit, move and resize every element.
Printing of completion certificates is simple and fast. You do not need to export a completion certificate template to print it. Use an in-built print option. RonyaSoft Poster Designer supports most of the popular models of great variety of printer brands. No additional setting is required.
RonyaSoft Poster Designer solves a major problem most businesses face when it comes to creating certificates. As a certificate of completion template requires changing of personal data of a rewarded person, then creating completion certificates for a group of participants turns into a time consuming processes. Moreover, the risk of making a mistake boosts sufficiently.
With RonyaSoft you get a ready to use template or easily customized course completion certificate and a simple to use graphics editor with intuitively clear interface.
How to create course completion certificate - RonyaSoft simple algorithm
First, download or buy RonyaSoft Poster Designer. Follow the tips to complete installation.
Start the application and open the gallery. Find certificate of completion template free samples and open the document in the graphic editor.
Add necessary brand identity (logos or images) and change the color scheme of the certificate of completion sample, change font and style of text blocks. Add or remove text blocks.
The graphic editor offers a simple drag and drop mode of relocating elements on the certificate of completion template. You can easily resize elements by dragging the corners.
Edit all text blocks which remain unchanged on all completion certificates:
Name of a course.
Full name of an educational institution or a company.
Name of a lecturer.
Save the certificate of completion template and use it with just putting a proper date and a name of a rewarded person!
RonyaSoft offers a simple solution to complete routine tasks in the fastest and most effortless way!