Birth Certificate
Birth Certificate template
How to design a Birth Certificate
Birth certificate is the first and foremost document a person gets in life. While an official document sounds too official, RonyaSoft offers you to create an friendly congratulation on the event which will be memorable and precious. To commemorate an event, you will need a birth certificate form and a simple editor to re-make a standard template as you wish. RonyaSoft Poster Designer offers you a valid birth certificate application!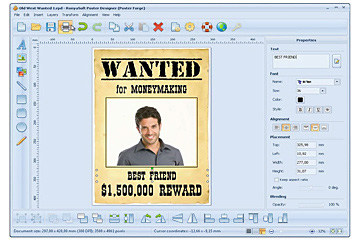 How to create a birth certificate with RonyaSoft?
RonyaSoft offers a simple yet effective instrument to create any holiday posters, banners, certificates, business signs, educational infographics or poster backgrounds in few clicks. The software comes with a huge gallery of free and ready to use templates. There are templates for any business and family occasion.
The templates are customizable and editable. You can change birth certificate as little as only change the metrics provided in the birth certificate form as date, height, weight, or you can do as much as personalize the certificate by adding pictures of parents, sweet moments from birth, the first pictures of the kid.
RonyaSoft Poster Designer offers you saving and printing options. Thus you will be able to complete a full cycle of birth certificate creation with a single application.
How to get birth certificate form?
There are many ways to find a proper birth certificate template:
Browsing the web - it is a time consuming task as searching for birth certificate online you will need to check each proper template for water marks, whether it is of proper size and whether it is customizable.
Downloading specific collections of templates - in most cases free collections provide very trite options - the templates of posters, birth certificates and signs are well known and are very widely used. You will hardly find a fresh template. Moreover making it fresh with an editor turns out to be a painstaking task.
Choosing a proper birth certificate from RonyaSoft collection - to get access to the complete gallery of templates you need only to download a free trial version of RonyaSoft poster editor. The demo version is full featured in which all templates and tools are available. This is the simplest and the fastest way to get a valid and editable birth certificate form.
How to edit birth certificate?
Download or buy RonyaSoft Poster Designer online and install it following installation wizard. The application does not require additional tuning. It is ready to use right after installation.
Start the application and open the gallery of templates. Explore Certificates and choose a proper birth certificate. Confirm your choice by clicking 'Ok' button and the template will be opened in editor.
Explore the tool panel of the editor and you will see that it is logic and clear. The editor uses drag and drop mode. Click any element on the birth certificate template and you will see all available editing tools in the right side menu. Among basic options for editing the templates there are background setting, text editing (you can change font, size, style and opacity), resizing and relocating the elements, adding pictures.
After the birth certificate is ready, please, do not forget to save your certificate and print it right away!