Award Certificate
Award Certificate template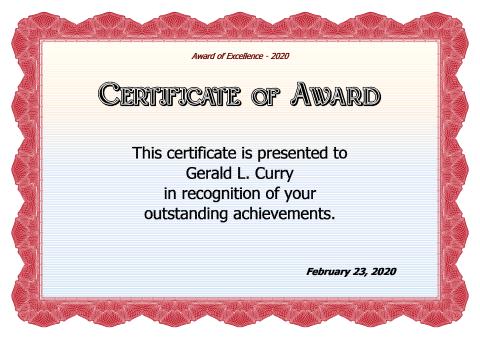 How to design an Award Certificate
Award certificate is not a simple piece of paper. It is an important document of recognition on person's achievements and skills. Award certificates are widely used in education, business, personal trainings as well as in kids' educational process at home. To make a great document you will need a usable award certificate template, certain skills and knowledge of how to make certificates and a powerful graphic editor. RonyaSoft solves all of the problems for you.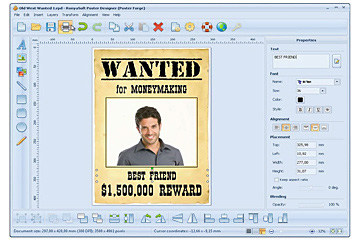 How to use RonyaSoft award certificate maker
RonyaSoft award certificate maker is a brand software consisting of:
Great collection of templates: you will discover bright certificate templates. Every award certificate template features clear layout, well chosen fonts, decent color scheme, and proper wording. Mind that every element of RonyaSoft award certificate template is customizable and editable. You can edit, delete or add any necessary element to award certificates to better meet your needs and goals.
Graphic editor - this is a powerful creative tool. The editor offers only necessary tools to fast edit and customize your award certificate template. It features an intuitively clear interface and tool panels. Every features is marked with a clear, easily recognizable icon. Thus you will not face any difficulties finding a proper tool to edit a necessary element. Moreover, clicking an element on an award certificate template will show you all available instruments in the right side menu for editing a chosen element.
How to make award certificate with RonyaSoft maker?
RonyaSoft award certificate maker is a simple to use tool which you can download from this page. A free trial version is full featured. It does not limit your access to tools and features. Click green download button to get the software on your PC. If you want to buy full version go to buy page. Follow the installation wizard to get the software started.
Launch the application and open the 'Choose a Template' dialog box. You will find a variety of award certificate templates to choose from. Clicking on any award certificate template will open it enlarged in right side window. Confirm your choice by clicking 'Ok' button.
A chosen award certificate template will be opened in graphic editor. Mind that every award certificate is already optimized containing all essential elements as title, presentation, recipient line, from line, description, date and signature. This will help you to make proper award certificates. You can just change the wording and a great award certificate will be ready.
Graphic editor allows you to add new objects and blocks. You can upload a logo of your company or organization or club, a digital scan of a company seal, brand identity, change colors and fonts to brand ones (if these are supported by the editor). Mind that award certificates do not commonly contain a photo of a rewarded person. So do the award certificate templates in RonyaSoft Poster Designer.
When editing is finished, please, do not forget to save your award certificate. Print your artwork right from the application using print icon on the toolbar. Set printer and specify a required number of copies. Congratulations! You are done with your award certificate! See our poster maker tutorials and try to create your own posters, banners, certificates, signs and other.