Slippery Surface sign
Slippery Surface sign template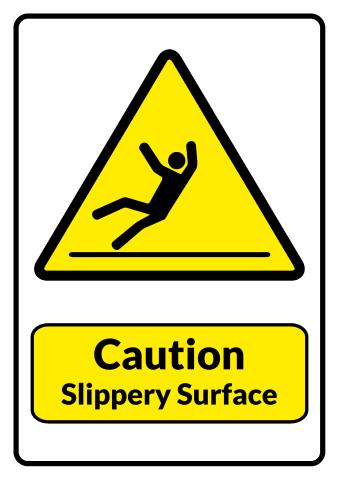 How to print a Slippery Surface sign
Slippery when wet sign belongs to the class of warning signs informing a person about a possible hazard, risk or danger onwards. It is a must be sign in all public places with slippery floor coating and which is regularly cleaned. Floors also become slippery in wet whether in places with high traffic flow. To warn people on slippery surface you must place a sign to avoid any responsibility for any accidents and injuries. To make a slippery floor sign is easy with RonyaSoft Poster Designer.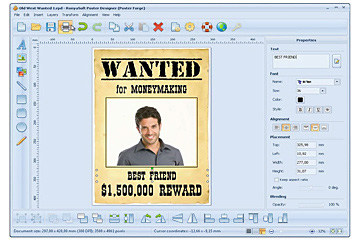 Slippery surface sign rules
Slippery floor sign must be placed in all public places: schools, offices, stores and even in the yard by the pool and at home to warn kids and guests on slippery floors.
Standard slippery when wet sign consists of two parts. The first or the upper part of this caution sign is a triangle with black borders and yellow background (which is a traditional color scheme of caution signs group) with an icon of a falling person. The second (the lower) part is a text block which is designed in the same colors.
To make an upper part of the slippery floor sign you need to keep in mind that its design must comply with caution signs standards. Slippery surface sign must be clearly read and understandable. This means that it is not recommended to change icons, the form and the text of the sign as well as its colors.
The templates of slippery when wet sign meets the international standards of caution signs and provides coherent information aimed to overcome language barrier. The slippery when wet signs which you will make and print with RonyaSoft poster maker will be clear and understandable even for a kid.
The lower part of the sign is a text block. The text block is non-obligatory. However if you decide to print slippery when wet sign with a text block, please, mind, that the text must be short and understandable for all.
Use clear fonts and apply proper size for the text to be seen from a distance and can be read on the go.
How to make slippery floor sign with RonyaSoft?
RonyaSoft Poster Designer provides you an extensive set of tools to create, edit and print signs, posters, infographics, certificates, etc. In case with slippery surface sign you can do as little as just open a slippery when wet sign template and print it as it is.
To do so, you need to download demo version of RonyaSoft Poster Designer. The software contains:
A collection of featured templates. You will discover posters, certificates, signs, infographics and many other printed materials for business, education and leisure. The templates are free, the software does not feature in-app purchases.
Graphic editor - a simple yet effective editing tool for customizing of templates. The software offers only necessary features. The interface and tool panels are logic and clear. You will easily navigate the editor and find instruments to change background image, edit fonts, add or edit graphic and text elements.
RonyaSoft Poster Maker also allows to print a slippery surface sign right from the editor by clicking poster button.