Beware of Dog sign
Beware of Dog sign template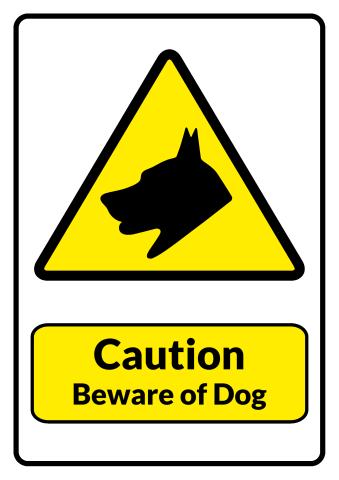 How to design a Beware of Dog sign
Dog signs belong to the group of warning signs and are placed at the entrance to your property. Placing a beware of dog sign will mitigate risks and liability for any physical or property damage your dog can cause to a stranger. The best way to avoid responsibility is to place a clear sign informing people of having a dog in the yard. The policy determining shape, color and icons used for beware of the dog signs vary from state to state and from country to country. You can make custom dog signs or print a beware of dog sign in standard warning sing design. As there are no strict rules of how to make noticeable dog signs, then you can set your imagination free and use RonyaSoft Poster Designer to create great visual warning for strangers!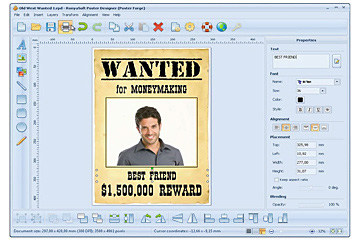 How to make beware of dog sign with RonyaSoft
Before you set to create your first warning sign, please, mind that though there are no rules and regulations of dog signs, still an effective beware of the dog signs must comply with the next rules:
Any warning sign must keep extreme readability on the go - this means that a strange person must recognize that the sign is warning about a free dog on the premises.
Less wording - people DO NOT read on the go, human mind recognizes visual elements much faster than it interprets words and extracts the message you have put in the wording.
Use standard coloring of warning signs - black for an icon and border and yellow for the background.
You will find valid beware of dog sign templates. The templates are customizable and editable. We recommend editing only a text block located under the sign triangle.
To make beware of the dogs sings you will need:
Poster Designer (download and install for free; mind that this is a demo version of the full software, it is a full featured trial).
Explore available dog signs templates and choose a desired one or choose a 'Creating a new blank document' option. RonyaSoft graphic editor will either open a chosen sign or a blank document.
Explore RonyaSoft tools to edit dog signs. The software uses drag and drop mode for editing and sign customization.
Change a beware of dog sign as you need. Click a text block to edit text. You can change color, style and transforming. Please, mind that using emotionally loaded words will boost the dog sign efficiency. Do not apologize or use unnecessary words which are not adequate to the case (a strange person entering your premises). Use the words as 'Warning', 'Danger', 'Beware' in uppercase to attract attention of a person.
Save the dog sign and print it right from the graphic editor by clicking Printer button on the top tool panel. Specify a number of copies and hot 'Print' button. Consider all possible points of entrance to your premises and place warning dog signs at every point. Use color printing to improve the efficiency of a beware of dog sign. If you use standard black and white print, then clear the background o avoid getting gray background of a printed sign.