Business Hours sign
Business Hours sign template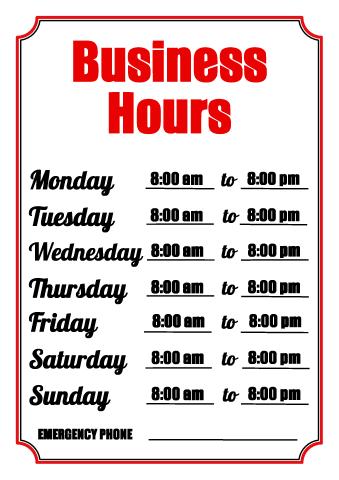 How to make a Business Hours sign
Business hours sign is an important element of business communication ethics. Hours of operation sign inform visitors on open hours and helps to avoid unwanted cases when clients pay you a visit when the office is closed. For store hours sign to be effective it needs to be designed following certain rules, to be properly placed and highly readable. To meet the challenge you will need a proper tool for sign design.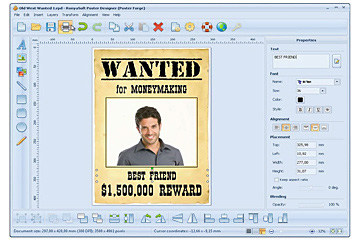 How RonyaSoft Poster Maker designs business signs
Before you start design your first business hours sign, you need to clearly understand its goals:
Hours of operation sign must grab customer attention from outside informing them on when the office or store is opened and welcomes its visitors.
Warn visitors on off days when the office or store is closed and can not help customers.
Inspire passers-by to take action - a simple store hour sign can convert passers-by into clients by inviting them to come in, try, buy, etc.
To meet the goals a business hours sign must feature specific design rules as follows:
The sign must be extremely readable for potential customers to skim the information on the go.
The sign must attract attention with bright colors, but mind that diverse colors will distract and scatter user attention. Thus, creating a business hours sign and adding notes, remarks, invitation words as well as irrelevant images. In other words, increasing the density of graphic elements on the hours of operation sign you will reduce the readability and efficiency of the sign.
Store hours sign must use well readable fonts of proper size to be seen from away.
RonyaSoft Poster Maker is a proper assistant in creation valid and highly effective business hours signs. The application offers templates, graphic editor and printing tools for complete cycle sign production. The open hours sign templates meet design norms and ensure high readability for clients.
How to make a business hours sign?
First, get RonyaSoft Poster Maker downloaded and installed. Follow the installation wizard. The software will be properly installed and ready to use in few clicks.
Launch RonyaSoft application and go to template gallery. Choose Business Signs. And you will see all available sign templates. Click a desired one of business hours sign to see it zoomed in right side window. Confirm your choice by clicking 'OK' button. This will take the template of the hours of operation sign to the editor.
RonyaSoft sign editor uses a simple drag and drop mode. Each element of the template of store hours sign is editable and simply customizable. Just click an element of business hours sign and see which editing options are available in the right side menu.
Business hours sign templates are ready to use: you can change as little as only type in your due working hours or as much as changing text, fonts and styles in compliance with your brand identity. You can also add elements. Just upload your logo and add another text block for your slogan or welcome notes. This increases conversion and performs customer care.
Print your business hours sign right from the editor clicking 'Print' button on the tool panel.