Business Posters
How to print business posters
Business poster is a simple way to attract attention of your target audience to a specific offer and to communicate your offer in a bright and engaging manner using visuals, text and colors. Business banners or posters boost conversion of target audience into paying customers. A business poster is simple compromise your business reputation. Everything matters when a business banner stands for a business of your life. That is why a business poster must be:
Well done and printed (professionally).
Easy to read and to understand.
Simple to change.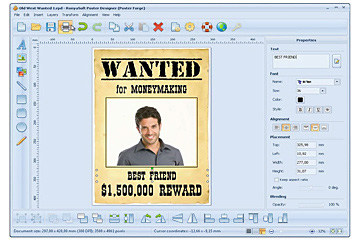 How to create great business posters?
RonyaSoft Poster Designer is an application of full production cycle for any type of posters and banners for your business and life. The software offers:
A complete library of poster templates: you will find the best business poster template for any offer and any type of business (small local cafe, investment service, fitness center, car wash, etc). Moreover, on downloading this simple software you will get access to other poster templates for leisure, holidays, business and family events, restaurant poster, parties, sale, education and infographic, propaganda and kids. The collection includes poster templates which can be used as templates for your business documents.
A simple graphic editor with intuitively clear and logic interface. Control always matters. With RonyaSoft graphic editor for business poster templates you will easily manage every part of a planned poster: from background to text. You may choose minor improvements, changing only text or completely refurbish the business banner, optimizing it up to the brand needs and the brand identity.
With RonyaSoft Poster Designer you will save every created business poster as a template and use it later on if something is changed with minor improvements.
How to start business poster production - step by step guidelines
Easy start! Just download RonyaSoft Poster Designer and follow the instructions of installation. It takes about 2 minutes. The application is ready to use.
Start the application and choose a category of posters and signs you need. Available business poster templates will open in central window. Click on a desired business poster and see how it looks like in right window.
Confirm your choice and the business poster template will open in graphic editor. Click any part of the business banner or poster and all available instruments will open in the right menu. You can change as little as only retype texts or upgrade everything from background to your business brand signs.
Save all the changes and set printing options. Use File menu to save or export the edited business poster.
But there will be no use of your poster if it is unprinted. RonyaSoft Poster Designer offers a simple and easy to set printing option. If you need to print a business banner on multiple pages, then RonyaSoft offers Poster Printer. With this application you will optimize your poster to multi-page printing in few easy steps saving your time and efforts.
RonyaSoft is a complex solution to save on professional designer and printer service!