Canon MG6340 printer
Canon MG6340 printer CD DVD tray layout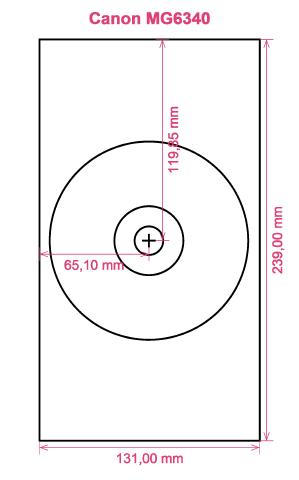 How to print labels on Canon MG6340 printer
It is not until you have had a go with the RonyaSoft CD & DVD Label Designer that you should discover how really easy it is to use great results finishes - gone are the days when you have any fears of being unable to make the most of modern technology! Within no time at all of starting to use the CD & DVD labelling software program you can be printing CD or DVD labels on your Canon MG6340 printer.
Hold on as there's much more to this CD, DVD and Blu-ray labels software than initially meets the eye. Simple and easy to use doesn't create simple copy, but more professional style CD, DVD and Blu-ray labels than you would expect. This compact disc label printer software gives you a multitude of choices and has huge amounts of of CD, DVD and Blu-ray label and cover templates already installed, not just for creating CD and DVD labels, but also CD and DVD covers and inserts to produce the professional look.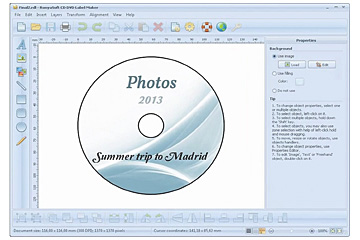 Regarding straightforward to use, well 'user-friendly' just got even more friendly. Just read the text to realize how simple, yet effective and professional results will be when you commence to make CD/DVD/Blu-Ray covers, Blu-ray labels and CD/DVD inserts:
To automatically get your CD DVD label making program, click on the 'Download' button.
Click on your chosen option from a fantastic choice of predesigned CD DVD label and cover templates.
Add any of your own design ideas to make the CD or DVD label even more personal.
Print the designed label by clicking the 'Print' button. Don't forget to indicate your Canon MG6340 printer during the design process and to download and use the latest free version of the driver.
Smile!
The RonyaSoft label making software uniquely gives you and your Canon MG6340 printer so much you could desire for personalizing so many great CD or DVD gifts.
Anyone will tell you that a surprise with an unique touch, something sweet, will always be appreciated far more than something purchased, so you will have more than paid for your CD & DVD labels create software, when you give someone a present.
What about these for possibilities:
You are at your brother or sister's twenty-first birthday. It is an incredibly special moment in their life and one they will always think about when they are older. What more clever way to help them reminisce about their special event than for you to take hundreds of pictures and video clips of the event, from start to finish, set them all on a CD, DVD or Blu-ray and present it to them as your own way of saying how proud you are of them. It will complete the day for them and it will have cost you next to nothing, save for two bits of paper, a blank CD, DVD or Blu-ray and a drop of ink from your Canon MG6340 printer.
Chose your best photos and snaps to create CD/DVD/Blu-Ray covers and create Blu-ray labels.
Do you enjoy being clever? Why not make new photos for the CD and DVD covers for your collection?
It's simple to store all your snaps on your computer or a memory stick, but make a fantastic label to put on a CD or create a CD case cover and insert and create a physical library of all your memories.
Are you searching an individual way to make you stand out when applying for employment. Do you want to seem superior from the rest of the them. Do you need to impress your prospective employers with a presentation of yourself on a DVD with an excellent printed DVD insert and printed DVD box specifically for each application?
RonyaSoft CD & DVD Label Designer is the ideal software extra to operate with your Canon MG6340 printer so download it instantly and get those stylistic juices flowing!
Blu-Ray/CD/DVD label printing software runs on Microsoft Windows OS, including Windows XP, Windows 2003, Windows7 and supports a wide range of CD DVD label printers, eg: Canon iP4750, Canon iP4970, Canon MG6250, Canon MP610, Canon Pro9000, Epson PM-980C, Epson Stylus Photo PX800FW, Epson Stylus Photo R2000, Epson Stylus Photo R350, HP Photosmart C5273, HP Photosmart C5280, HP Photosmart D5363, Trace Affex CD-Artist and similar.
Blu-Ray/CD/DVD label creation software supports a wide range of CD DVD label providers, eg: Alpinter A4, Avery 8695, Avery 98124 98149 STOMP, Cassette House, DECAdry DLW-1824 CD DVD (old format), Global Star CD DVD (5x9 sheet), Hisago CJ4843S CD DVD (A5), Micro Application, Plain Paper 2-up, Polyline MCD462W, Verbatim CP-3174, WriteAway CD DVD, Zweckform L7760 and similar.